How to Generate a List of CEOs with their Email & Phone in no time
How to Generate a List of CEOs with their Email & Phone in no time
Marketing professionals often wonder why their well-crafted marketing campaigns fail without any reason. They spend a lot of time and resources in developing their campaigns by choosing the right strategy, developing compelling content and providing irresistible offers. But, they still are unable to taste success.
The reason is, they don't have the correct contact details of the right person in the company. Reaching anyone in a company is not a big deal but identifying the right person who has the decision making & buying authority, and contacting them is a challenge.
For example, CEOs are one of the decision makers in a company. If you can convince a CEO, then things will fall in place the way you want. But the challenge here is, you cannot find the contact details of CEOs that easily. In most of the company websites, you can just find the name but you will not find any trace of their contact information – email or phone. So without any basic contact information, you can't even imagine to reach them.
Some marketers choose to buy lists but they are quite expensive and also the data is not reliable. Another way to generate contact lists is to build your own list manually. But that can take a lot of effort in terms of time and resources. This is where a tool, such as LeadGrabber Pro, that quickly builds a list of CEOs or any other decision-makers can be handy.
LeadGrabber Pro helps you generate a list of CEOs with email & phone in no time.
All you need to do is, just enter the keyword "CEO" and click Find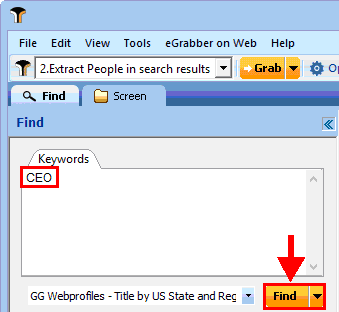 LeadGrabber Pro instantly finds you the CEO profiles from across the globe.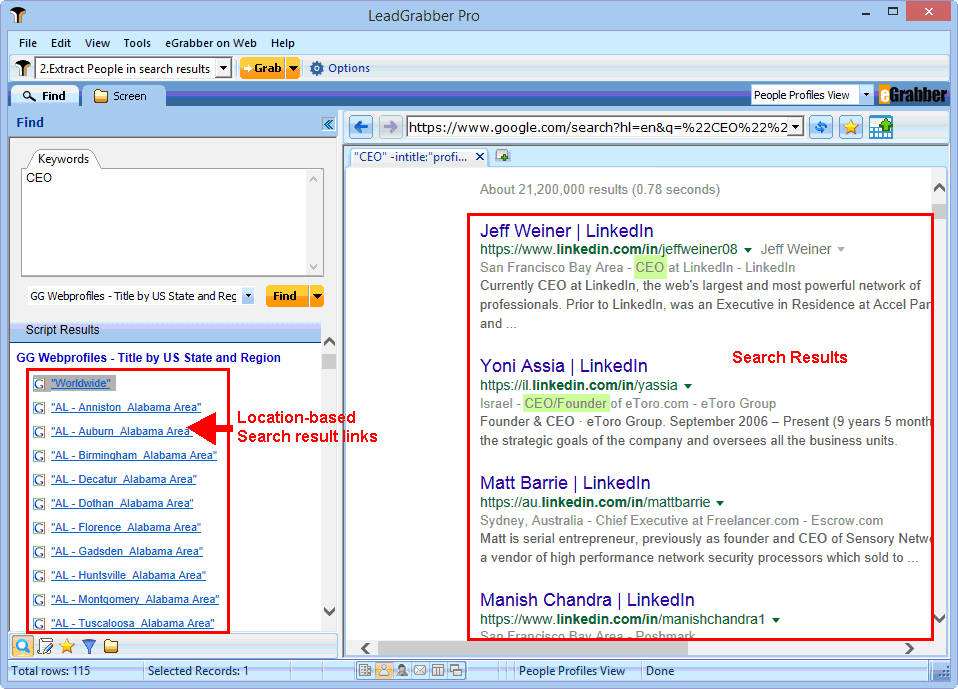 You can also narrow your results by selecting the location. For example, if you want to find CEO profiles in Los Angeles, California, you can do it in a click.
Under Script Results, click on "CA – Greater Los Angeles Area"
The corresponding search results are displayed in the built-in browser pane.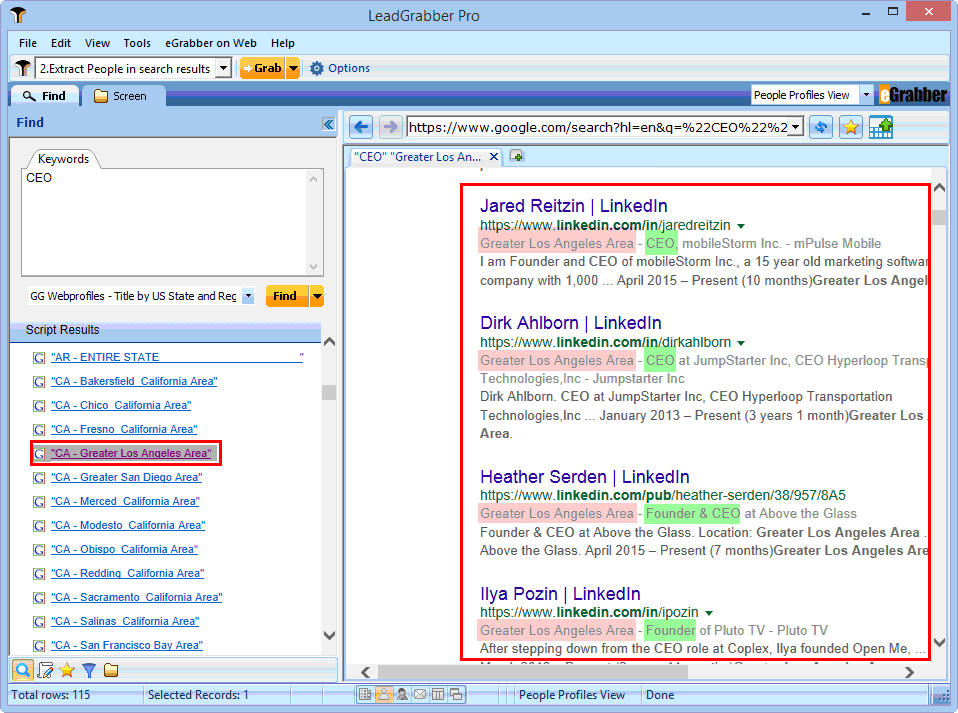 Similarly, you can also search CEOs in specific industries.
For example, CEO profiles from "Computer Software" industry from "San Francisco Bay Area." The search results are displayed in the built-in browser.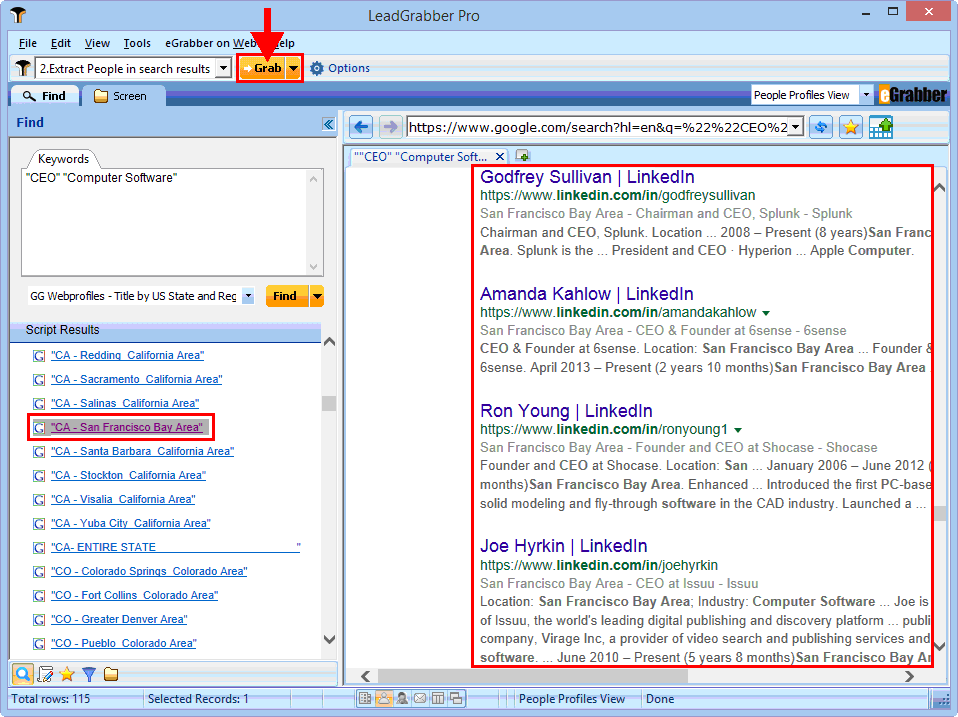 Now, with a single click, you can copy-paste the search results from the browser into LeadGrabber Pro grid.
Click Grab.
The CEO profiles are now displayed in the grid in a spreadsheet format.
You can have a look at those profiles.
To find CEO email and phone, select the records that do not have the email and phone.
Click Append Email and Phone.
LeadGrabber Pro's patented email & phone appending technology helps you to instantly find email and phone numbers for the selected contacts.

LeadGrabber Pro displays the business email, email domain, whether the email is found (displayed in blue) or projected (displayed in green), email rating and business phone numbers.
Now, you have a list of CEOs contact list with email and phone, ready to reach them.
What are you waiting for?

Latest posts by Premanand Arumugam (see all)