How to find email address of CEO found on LinkedIn®?
Latest posts by Dan Sekar (see all)
LinkedIn® is one place where you can find a lot of targeted prospects companies CEO, VP, Director & Top Executives Etc. But chances are that you may not be connected to all of them. To connect with them, you need to have their email addresses. But all you have is their names and company names.
One way to reach your prospects is through InMails. But InMails are very expensive and the # InMails you get are limited based on your subscription plan. This is where a sales prospecting tool such as eMail-Prospector can be handy.
eMail-Prospector helps you to instantly find email address of CEOs found on LinkedIn®.
All you need to do is:
Enter the CEO name (First Name and Last Name) in the Full Name field.
Enter the Company name in the Company field.
Click the drop-down arrow next to the  button on the menu bar and select Find > Find E-mail option or press CTRL+E.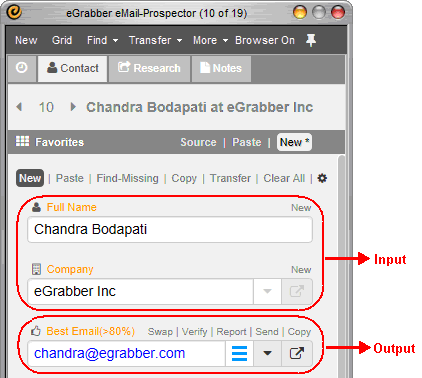 eMail-Prospector's built-in email finding and contact research technology searches the Internet and finds CEO email address in just a few seconds.
eMail-Prospector also helps you find email address of VPs, Directors & Top Executives found on LinkedIn®.
eMail-Prospector helps you find email address of any prospect if you have the name and company name.