How to generate sales leads from LinkedIn® Groups through Google
Latest posts by Dan Sekar (see all)
LinkedIn® Groups are one of the best sources to generate highly targeted sales leads. However, it is not as easy as it is said. There are certain limitations – you can join a maximum of only 50 groups, many groups don't allow everyone to join, etc. These limitations prevent you from accessing the group members who could be your potential customers.
One way to overcome this problem is to search LinkedIn® group members through Google. Yes, because almost all LinkedIn® profiles are indexed by Google. Therefore a Google search for LinkedIn® profiles from a particular LinkedIn® Group displays the profiles of the group members. This enables you to know the group members without being a member of that group.
But if you were to do this manually, you got to write your own Google search scripts, search and manually click each profile to find your prospect contact information which is a tiresome and time-consuming process. Imagine how much time and effort it would take if you want to repeat this process for 100s of contacts. This is where a lead generation software such as LeadGrabber can be handy.
LeadGrabber helps you to generate sales leads from LinkedIn® Groups through Google in no time. You don't need to write complex search scripts. All you need to do is:
Just enter the group name. Ex. "Social Media Marketing"
Select the search script.
Click Find.
The expert Boolean search scripts in LeadGrabber instantly finds the groups members of that particular group from Google.
Click Grab to build a list of profiles from the specified LinkedIn® group.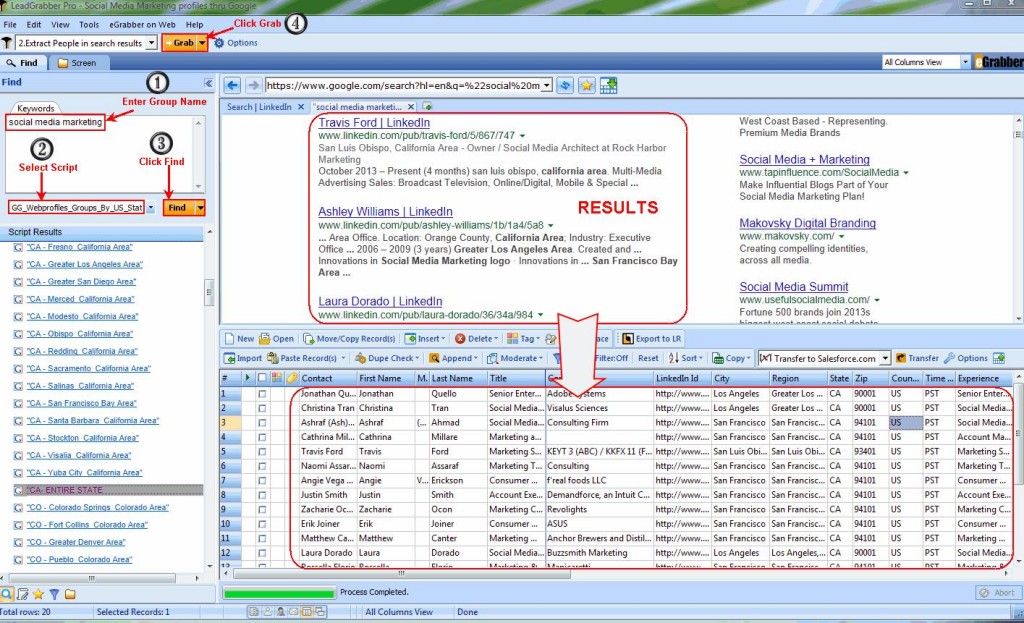 What are you waiting for? Use LeadGrabber to generate sales leads from LinkedIn® Groups through Google.