Help! LinkedIn needs Email Address for New Connections I invite!

Clinton Rozario is a B2B List Building technology expert and architected LeadGrabber Pro, the B2B List Building Tool from eGrabber. Clinton joined eGrabber in 2003. He held key roles in R&D, developing strategic and proprietary technologies. He is now responsible for development of eGrabber's List Building and List Completion Tool Suite. He is also available on
Google+
and
LinkedIn
.

Latest posts by Clinton Rozario (see all)
LinkedIn's great for sales prospecting. It's easy to get super-enthusiastic and start connecting with all the potential prospects you can find in their 250-million+ network… until LinkedIn asks you for an email address for every new connection request!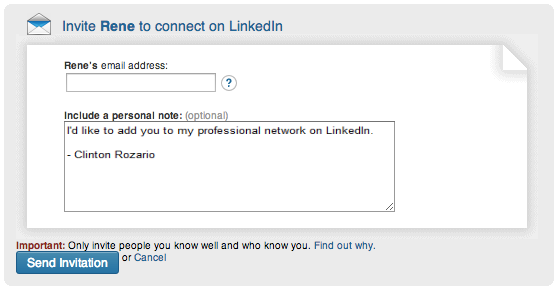 Why do you see this? That's because you've violated LinkedIn's user agreement. You have sent invitations previously to people who you don't know. And those people have marked your invitation as SPAM or IDK (I-Dont-Know).
At this point, won't see the other connection options you "used to" see.
"But I met him at the conference last year, I just don't have his email address", you say… All right, I hear you. Let's solve this. We have to find his email address. Let's use the Internet. 3 Steps.
Lets use these 3 samples for our learning:
| | | |
| --- | --- | --- |
| Name | Company | Email |
| Hassaan Sophie | eGrabber | ? |
| Taylor Custer | OrgSync | ? |
| Laurie Robison | Winshuttle | ? |
The 3 Steps to finding anyone's email address
Search google for his Name + Company + the "email" keyword ( this Google search solves Hassaan's email )
If that does not work,
Search google for her Name + WebDomain ( this Google search solves Taylor's email )
and if that does not work,
Search google for her colleagues' email addresses, and guess her email address.
( search shows dominant email format in the Winshuttle company is FirstName.LastName )
Here are the results of our exercise:
| | | |
| --- | --- | --- |
| Name | Company | Email |
| Hassaan Sophie | eGrabber | hassaan.sophie@egrabber.com |
| Taylor Custer | OrgSync | tcuster@orgsync.com |
| Laurie Robison | Winshuttle | laurie.robison@winshuttle.com |
By most chances, they would have linked their business email address with their LinkedIn accounts. Be-warned, this works most-of-the time, especially for those who are active on LinkedIn. But there is no other better way.
Happy Prospecting!
—
Searching for email addresses like this typically takes upto 10 minutes per contact.
That's why we built Email Prospector Tool. so you can have a software searching for email addresses in less than 1 minute..  Download a fully functional copy of Email-Prospector today. Works for 7 days, you keep all the prospect email addresses you get.
—