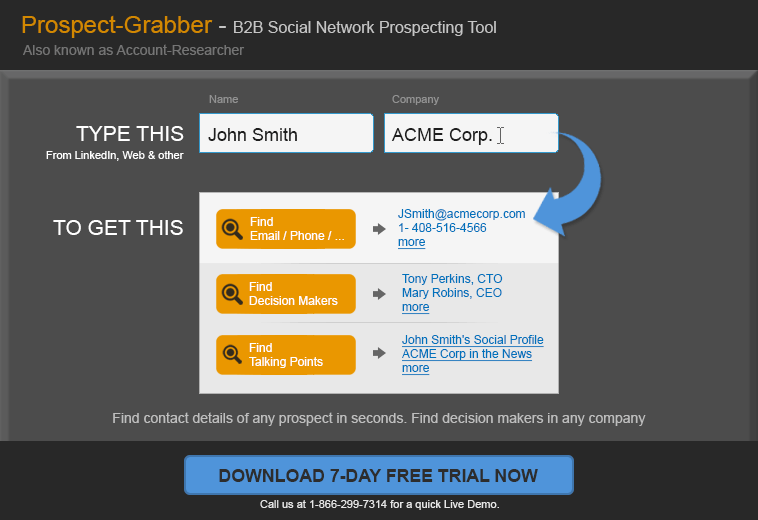 The 3 Problems of Recruiters, Account-Researcher will solve
The 3 Problems of Recruiters, Account-Researcher will solve
All Recruiters / Account executives working at 3rd party recruiting agencies have few problems in common,
Finding the e-mail address and phone number of passive candidates sourced from different social networks.
Finding the name, e-mail and phone of hiring managers in targeted companies to market their candidates.
Arming oneself with the right intelligence to engage with purple squirrels and other niche clients.
eGrabber's social prospecting tool, Account-Researcher solves these problems
Account-Researcher was recently ranked as # 4 in Top 14 Social Media Tools Used by Marketing Pros, in an online networking forum of 220,000+ members, read full review here.
Finding the E-mail Address and Phone Number of Passive Candidates.
The Account-Researcher tool is perfect for recruiters who dive into different social networks for sourcing passive candidates, after hours of name sourcing, recruiters end up with only names of candidates and no actionable information. If you enter the name and the current company of the candidate and click a button, Account-Researcher can get you the business email address and phone# of the passive candidate; unlike social networks which allow you to send messages to passive candidates only if you pay a premium.
Account-Researcher gives you access to the e-mail id of the candidate, can be used to get in touch with the candidate any number of times.
Finding Hiring Managers in Targeted Companies
If you are an account executive associated with the business development side of a recruiting firm you will constantly find yourself starting your prospecting with the names of the companies that you want to market your candidates to. Enter the name of the company and the title of the decision maker you wish to talk to. Account-Researcher will give you the name, e-mail and phone# of the hiring manager.
Arming oneself with the right intelligence to engage with purple squirrels and other niche clients
How often you have found yourself in this position? You have felt awkward starting a conversation with a potential client or candidate because you are not equipped with the research information to engage them over the phone? Account-Researcher aggregates a set of quick links that you must know about the candidate / prospect before the initial phone call or e-mail, gives you information about the prospects from blog mentions, press releases, white papers and other relevant social links.
Patented process that gives you the edge
Account-Researcher DOES NOT access information from a pre-made contact database. It sources its contact information from the trillions of documents on the World Wide Web. eGrabber has also patented this process, read US patent here.
eGrabber, is hosting a webinar on the best practices of using this tool exclusively for recruiter on October 17, 2013 at 10:00 AM PT, session chaired by Eric Randolph , Executive Director of United States Staffing Association. Join us to get inputs from this industry expert.