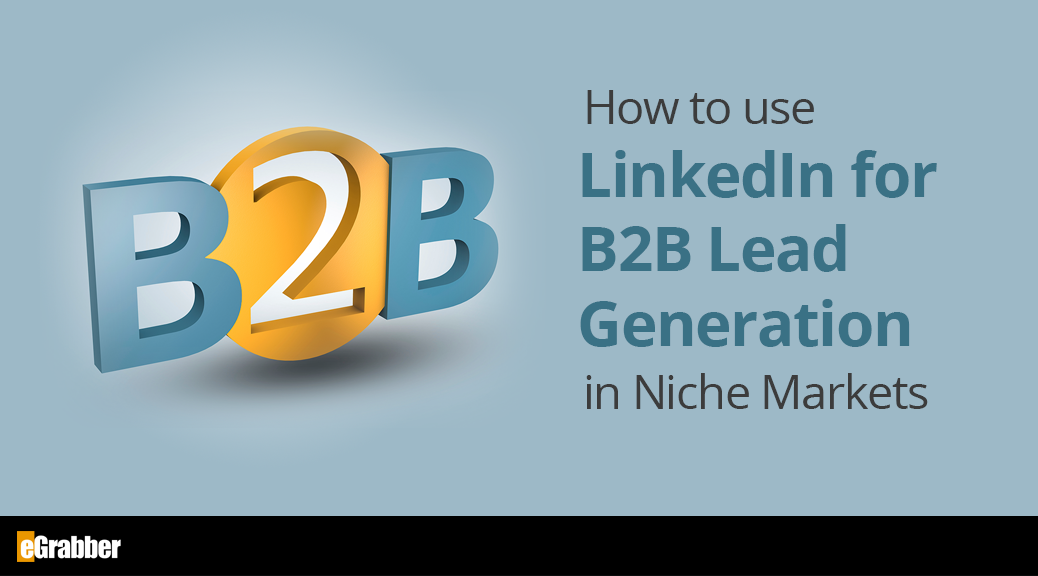 How to use LinkedIn for B2B Lead Generation in Niche Markets
How to use LinkedIn for B2B Lead Generation in Niche Markets
Niche marketing is targeting a specific demographic with specific customer needs that is not often addressed by majority of the competitors. In other words, a niche market is a small group or subset of your larger target audience with specific needs, wants and preferences. Therefore, you need to come up with a niche marketing strategy that enables you to generate B2B sales leads for niche markets. LinkedIn is one of the best sources to generate leads for B2B niche markets and this blog post will help you learn how to do it.
Are you looking for leads in Niche Markets?

Try the #1 LinkedIn Prospecting Tool Get your Free Trial Today!.
How to use LinkedIn for B2B Lead Generation in Niche Markets
One of the best niche marketing strategies is to use LinkedIn for B2B niche lead generation. It helps you to generate leads for Niche Markets. Let's see some of the ways by which you can find and attract prospects from your niche market on LinkedIn.
LinkedIn Updates – It is one of the best ways to attract prospects & generate leads for B2B niche markets. Remember, you are targeting a small group of audience. Therefore, you need to tailor your content that is specific to that group. When you post LinkedIn updates that adds value, gives a lot of insights and helps your prospects improve or grow their business, it attracts your ideal prospects and help you to engage with them.
LinkedIn Groups – LinkedIn groups help you to find your prospects from niche markets. There are millions of LinkedIn groups related to various industries, domains, technologies, skill sets and so on. LinkedIn groups will help you to find your targeted audience from niche markets. You can join those groups, participate & contribute your ideas in discussions. LinkedIn Groups help you to exhibit your expertise and become a thought leader in your niche. Your prospects will reach you for any queries or problems. It will help you to connect with them, build rapport and establish trust among your prospects.
LinkedIn Articles – In addition to posts and discussions, publishing articles on LinkedIn will help you to again get the attention of your prospects from niche market. Providing solutions to a specific problem or tips & tricks to improve productivity or workflows can really attract prospects from your niche.
LinkedIn Showcase Pages – LinkedIn Showcase Pages help you to target your prospects from niche markets. You can use showcase pages to share unique content to your niche audience. It helps you to promote your unique brands, product lines and initiatives to your niche audience.
LinkedIn enables you to effectively engage with your niche audience via posts, groups, articles and showcase pages. You can interact with them, answer their queries and build rapport with them. Visibility is another great advantage of niche marketing and LinkedIn helps you to get that. When your niche audience like, comment or share your posts, it reaches the connections in their network as well. Your chances of getting more leads increases.
Lead Generation Challenges in Niche Markets
Though LinkedIn helps you to find your niche audience, many businesses find it difficult to generate B2B sales leads for niche markets. One of the reasons is that you have to manually build a list of B2B niche companies, identify the decision makers and then devise various strategies to find & reach your ideal prospects. It is a time-consuming and tiresome task.
Even if you have a dedicated resource, generating B2B sales leads manually would be a painfully slow process. Some companies don't have the resources to do it. Therefore, they spend thousands of dollars to buy B2B sales leads lists. However, you can't find prospects in your niche markets from those expensive lists sold by list vendors. This is where a LinkedIn prospecting tool such as LeadGrabber Pro comes handy.
#1 Prospecting Tool for B2B Niche Lead Generation
With LeadGrabber Pro, lead generation for B2B niche markets is a breeze. You don't need to spend countless hours to manually copy-paste the prospect details from niche companies into your CRM or struggle hard to find the right decision makers in those companies. LeadGrabber Pro helps you to do it in just a few clicks.
The LinkedIn prospecting tool helps you to build a list of companies from your targeted niche market and find decision makers in those companies.
What's more? With a click of a button, you can find verified business email addresses and phone numbers of the decision makers and start reaching them right away.
You don't have to either spend thousands of dollars on lists or spend your precious time. LeadGrabber Pro takes care of your B2B lead generation in niche markets and you can focus on other important tasks that needs your attention.
You can now generate thousands of B2B sales leads from niche industries and markets in just a few clicks!
Why wait?