How to Find CEO Email Address of any Company
CEOs are the top-most ranking business executives in any company who play a major role in making corporate decisions. They are always busy hopping from one meeting to another and therefore, the best way to reach them is via email. This is the reason why B2B marketers always look for various ways to find CEO email address.
Get Verified CEO Email Addresses in a Click!
How to find CEO email addresses in less than 60 seconds!
Unfortunately, you can't easily find CEO email addresses either on websites, LinkedIn or any other place. You only have the Names and Company names of your prospects. This is the major challenge that B2B marketers face every day.
But, here is a CEO Email Finder tool that helps you to find CEO email addresses in less than 60 seconds.
To find CEO email addresses of your prospects,
Import the list of Contacts (CEOs) with Contact Name (First Name & Last Name) & Company Name.
Click the drop-down arrow near the Append Contact Info button on the grid toolbar and select Append E-mail option.
The software instantly finds and displays you the verified company CEO email addresses. It also helps you to find company email addresses for CXOs, VPs, Directors & other top executives in the company. You can get a list of CEO email addresses in no time.
How to find CEO Email Address Manually
If you want to get CEO email addresses manually, you need to first find the CEOs of your target companies. If you have a list of companies, you need to manually visit their company websites, look for the CEOs in the company management page and copy-paste the names to your database. But this is a laborious task that needs a lot of your time and effort.
Find Every CEO Email You Need in a Click!
LinkedIn is another place where you can find CEOs in a company. You can find CEOs of companies based on geography, industry, company size, revenue, and so on. You can connect with them on LinkedIn and gradually proceed further to pitch your product and get sales appointments. But this is not as easy as it sounds. It will take its own time.
Why you should Find Company CEO Email Address
As mentioned earlier, CEOs are always busy and they don't check on LinkedIn frequently. May be they reserve these tasks for weekends. Also, they get hundreds of messages on LinkedIn and your message might get lost among those hundreds.
Also, you need to have this in mind that people use their personal email address to join LinkedIn. Even though, you get connected, you get only their personal email IDs. CEOs do not check personal emails frequently and they don't generally prefer to have business communications using personal emails.
Therefore, reaching the CEOs via their business email address is the only effective way to get better responses and results for B2B marketers. They use it during their business hours on a daily basis and they respond quickly.
If you are someone looking to find company CEO email addresses, here are 5 ways that you can try.
The Fastest Way to Find CEO Email Addresses(Verified)
4 Ways to Find CEO Email Addresses
Here are four ways to find business email address of your target CEOs with name and company name.
You can try the following methods to find CEO email addresses in bulk.
Find CEO email addresses using common email patterns
Find CEO email addresses from the Internet
Find CEO email addresses from Email Databases
Find CEO Email Addresses in Bulk
1. Find CEO email addresses using Common Email Patterns
If you are trying to find email address of the CEO at a small company that has not more than 50 people, chances are that the CEO has access to or is monitoring one or more of these generic email addresses.
Try using one or more of these email addresses to reach the CEO directly:
So if the CEO is Gary, use any of these generic email addresses and say "Hi Gary,…". That's because even if the email inbox is being monitored by someone else other than the CEO, they would directly forward the email to the CEO, saying "I got this email, I think it's for you…"
Think about that for a moment. When the CEO gets your email forwarded from an employee, what do you think the CEO is going to do? That's right.
The CEO WILL READ the email – will read your message – and you get your golden slice of attention. There is a bit of social engineering going on there – the CEO has an email from an employee and MUST take a look at it.
One more thing, at small companies, usually the CEO is the first employee, so chances are they also got the first email address. And the most popular patterns are:
If you want to verify before sending the email address, use mailtester.com to test the email address. This is a cool, reliable, free email checking service that has been around for years.
2. Find CEO email addresses from the Internet
Another way to find CEO email addresses is on the Internet. Sources such as online directories, social & professional networking sites, corporate websites, blogs, forums, user groups, association websites are some of the places where you can find the email addresses of CEOs. However, you will have to visit these pages manually and then find them out.
You need to have expert Internet research skills, well-versed with Boolean search techniques and Google search scripts to wade through hundreds of web pages on the Internet. Still, it takes a lot of time and effort from you. You might get CEO email addresses but you never know if they are verified business email addresses.
Small businesses with very limited resources cannot afford to spend countless hours on the Internet on a daily basis and cannot afford to spend a dedicated resource as well.
3. Find CEO email addresses from Email Databases
Email databases and email appending services are another way to find CEO email addresses. But, they are very expensive. You might have to pay for every contact detail. The next concern is that these email databases and email finding services provide data from a database that was stored for a long period of time.
Research says that every year around 25% of the data becomes unusable. It is because people move to different companies and therefore their business contact information becomes unusable. You might still be on the losing end after spending thousands of dollars on email databases & email appending services.
4. Find CEO Email Addresses in Bulk
LinkedIn has advanced search tools that enable you to get a list of CEOs.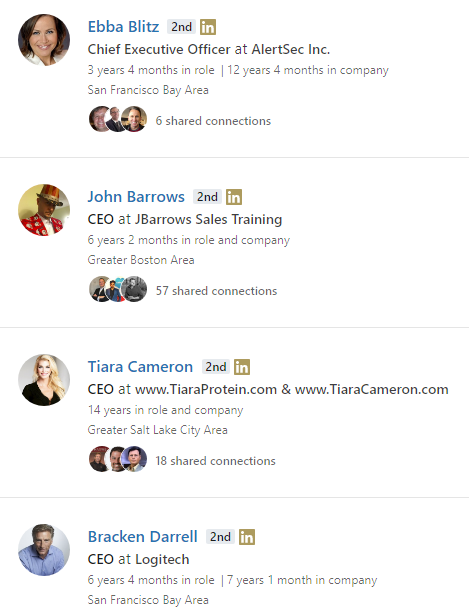 Finding the email addresses of all these CEOs is a hassle, when you are doing it manually.
LeadGrabber Pro helps you to find CEO email addresses in a click. When you have a list of these CEOs, LeadGrabber Pro runs an automated email finding process to find email addresses of these CEOs. Unlike email databases, LeadGrabber Pro does instant real time searches on the Internet and finds CEO email addresses in no time. It also automatically verifies the emails and provides you the verified business email addresses of the CEOs.

With a click of a button, you can export the CEO email addresses from LeadGrabber Pro to Excel or CSV file.
Try LeadGrabber Pro for free and Find CEO Email Addresses in no time!