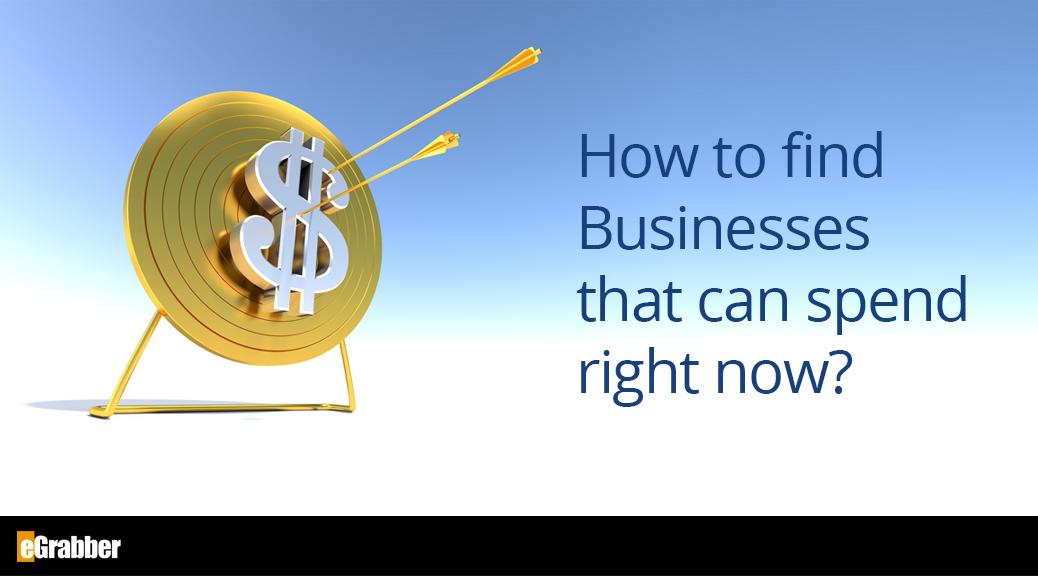 How to find Businesses that can spend right now?
How to find Businesses that can spend right now?
COVID-19 has crippled some businesses. However, it's also created a new set of fast growing stars. Take Zoom, for instance. This online meeting software has seen a tremendous growth in users since COVID-19 hit.
One key to business survival & success now is asking the right questions:
How do I find businesses which have GROWN during COVID-19?
Finding businesses which have Grown during COVID-19
Businesses which have grown will show signs of growth. Here are some of those signs:
The rest of this blog will show you ways to find these companies and how to contact them for new business.
1. Businesses that are Hiring People right now
Target the businesses that are still hiring people. If you also look at companies that are spending a LOT of money on advertising their job postings, that's even better.
LinkedIn Job Ads are not cheap. Here's a way of finding companies which are advertising their job postings on LinkedIn. AND a way of filtering them to see only the companies which are in your target market.
You will need the Sales Navigator account for this. In the Accounts Search section, choose the "Hiring on LinkedIn" search filter. Then add all the other filters to choose the Industry, Geography, Company Size etc.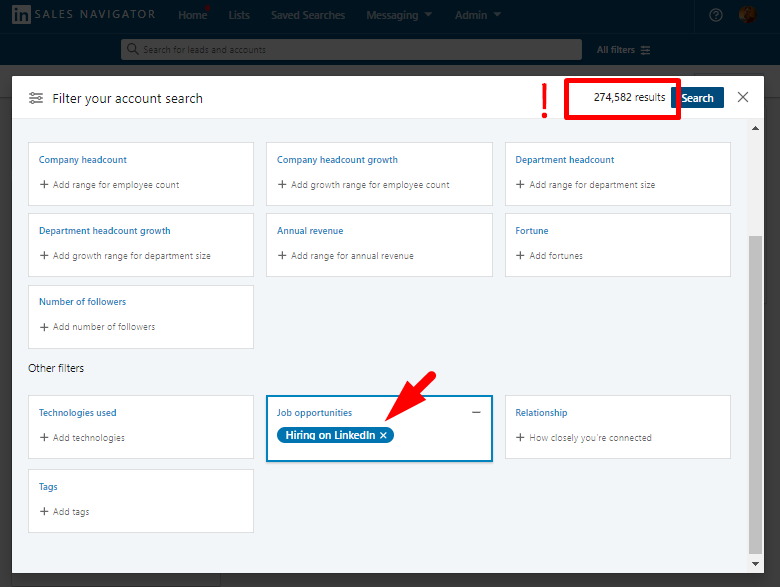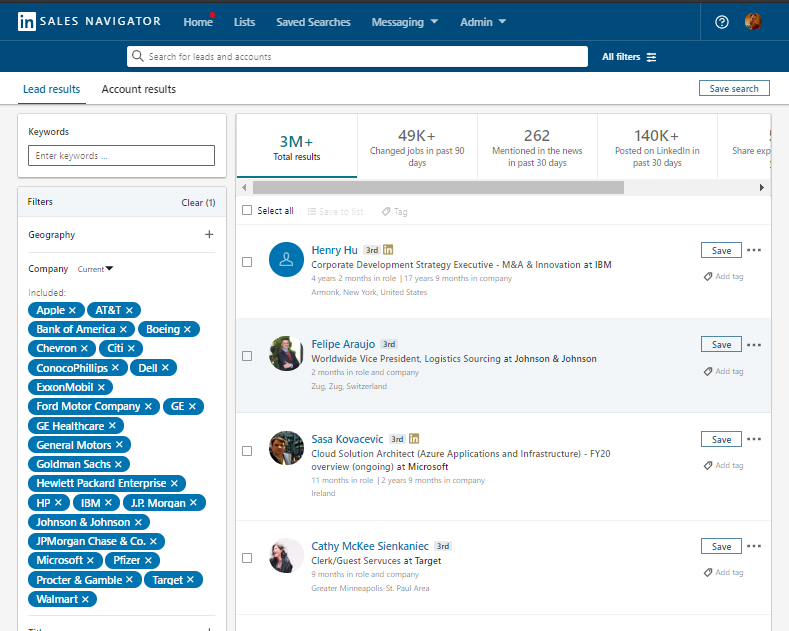 Make a list of all these companies and people right now. If you need some software tools to build the list for you
If you'd like to purchase the list instead, you can try out our pre-made list from here.
2. Businesses that secured recent Funding, since the outbreak of COVID-19
A bunch of startups and growing unicorns are still getting funded during this time. Use this simple AngelList search to pull up the list of companies which have got Finding. Don't forget to sort by "Join Date" so that you get the recently funded ones on top.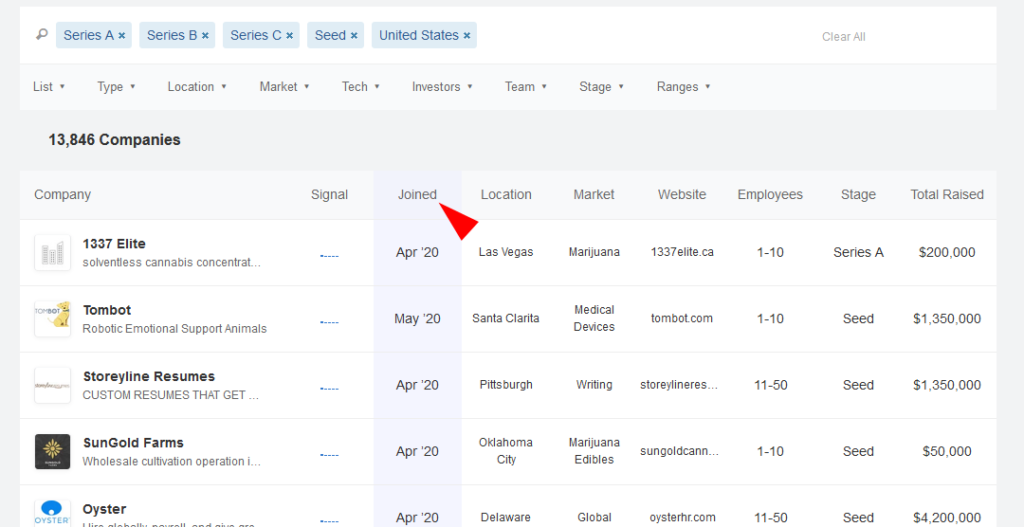 If you'd like to get the CEO's and founders of these companies in a spreadsheet like this, fill up the form and we can help you.

3. Medium-Large Businesses that normally display at Conferences, but now have their Tradeshow Marketing Budget up for take
Exhibiting at a conference is a very expensive piece of any company's marketing budget. COVID-19 has cancelled or postponed many conferences.
Now all these exhibitors have their marketing budgets which they HAVE TO spend. And these are large budgets.
So how do you find such exhibitors? You start by finding the conferences which have got cancelled. Here's an easy search from 10times.com which lists all the tech conferences in New York which got cancelled. Remember to check-mark the "Cancelled" box on the left side to get all the cancelled events.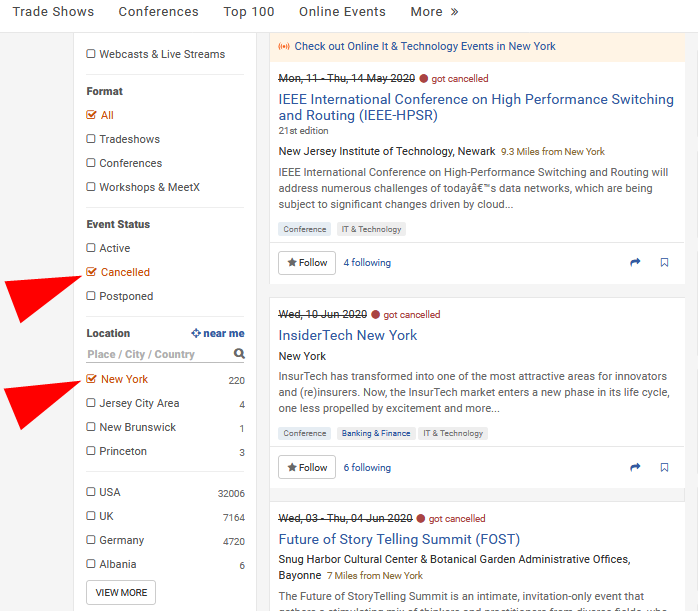 Each of those conferences will have a conference website or a landing page which lists the exhibitors. Make an exhibitor list and go after them! Here are some other websites from where you can find companies which (were) exhibiting.
If you need to convert the exhibitor list into a contact list, with names of executives, CEO's and decision makers, fill the form below and we can help with that.