How to Build Business / B2B email lists from scratch?
How to Build Business / B2B email lists from scratch?
How often have you seen your email marketing campaign fare poorly because of a bad email list? A quality email list really plays a vital role in getting you started with your email marketing programs. So, what is a good email list? How do you build a business email list from scratch, especially when you don't have anything to start with?
One of the ways to build an email list can be newsletter signups. You got to have a signup form on your website or partner websites to gradually build an email list. Another way to build a business email list is to manually visit the management pages on the websites and get the email addresses.
You can also build an email list by manually searching or rather researching on the Internet. You need to have Internet search expertise here. Using the contact name and company name, you need to find the company website, the email domain of the company and then the email address.
If you don't find the email address of a contact, you need to find email addresses of other employees to identify the email pattern and then frame the email address. If it takes about 10 minutes to find an email address for one contact, imagine how much time it would take for you to build an email list.
All the above methods can be effective but they are tiresome and time-consuming processes. Renting or purchasing email lists is too expensive. In addition, the quality of the list is questionable. They are obtained from old databases that usually don't have updated contact information. This is where a B2B list building tool such as LeadGrabber Pro can be handy.
It is a powerful list building tool that helps you to build email lists in a few simple steps.
For example, if you want to build an email list of CEOs,
1.    Just enter the keyword 'CEO'.
2.    Select the search script
3.    Click on the Find button. The results are instantly displayed.
4.    Click Grab to import the search results to the grid.
5.    Now, select the records and select Append Email option.
LeadGrabber Pro instantly searches the Internet and extracts the email addresses of your prospects in a few minutes.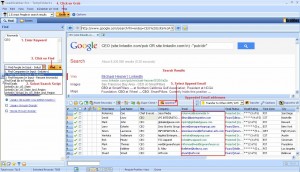 Unlike rented / purchased lists, LeadGrabber Pro helps you to build email lists from real-time search results. With LeadGrabber Pro, you can build email lists in no time. It helps you save time, improve productivity and of course increase your revenues.
Latest posts by Dan Sekar (see all)