Flyn shares a simple trick to improve sales conversions
Flyn's Technique on
LinkedIn®

Saved Search + eGrabber's Account-Researcher

A Killer Combination for Improved Sales Conversions

In a recent interview with eGrabber social selling academy, Flyn Penoyer has spoken about how over the so many years he has trained thousands of sales professionals about cold calling, lead generation and prospecting techniques. His techniques have always resulted in a triple digital growth in just a few weeks (285% in 3 weeks is the latest number for record). He now shares with us on how a simple thing like LinkedIn saved search can help you in improved sales conversions.

LinkedIn® indisputably is the one of the largest databank of C level decision makers and an ideal environment for B2B prospecting. It lets you search for your target prospects based on a multitude of search criteria such as title, industry, company size and other demographics. Sales professionals today have the flexibility of using several combinations of their search and build multiple sets / categories of prospect lists.

While this is a good feature, what makes it better is when you use the saved search feature. The Saved Search Feature in LinkedIn® sends matching profiles to your email inbox on a periodic basis. It's like having lead-gen on automatic!

Look at the simple 3 step illustration below and you will know what we mean.
Step-1: Search for your target prospects
Let us try and search for "Lead Generation Director". Select your preferences based on title, location and other demographics.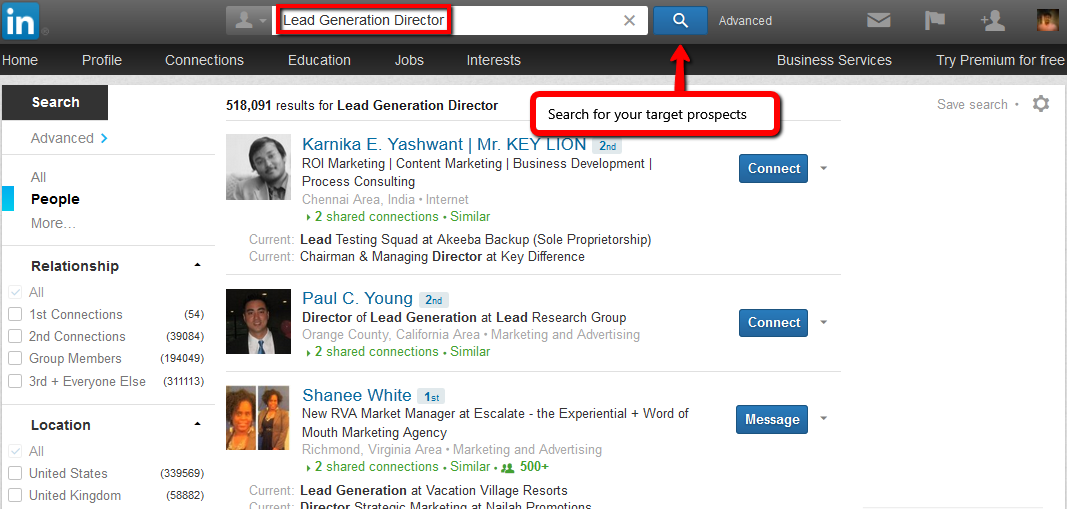 Step-2: Click Save search of your results page
LinkedIn® will display the results based on search criteria. Click on Save search in the top right of your results page. You will find it next to the settings icon.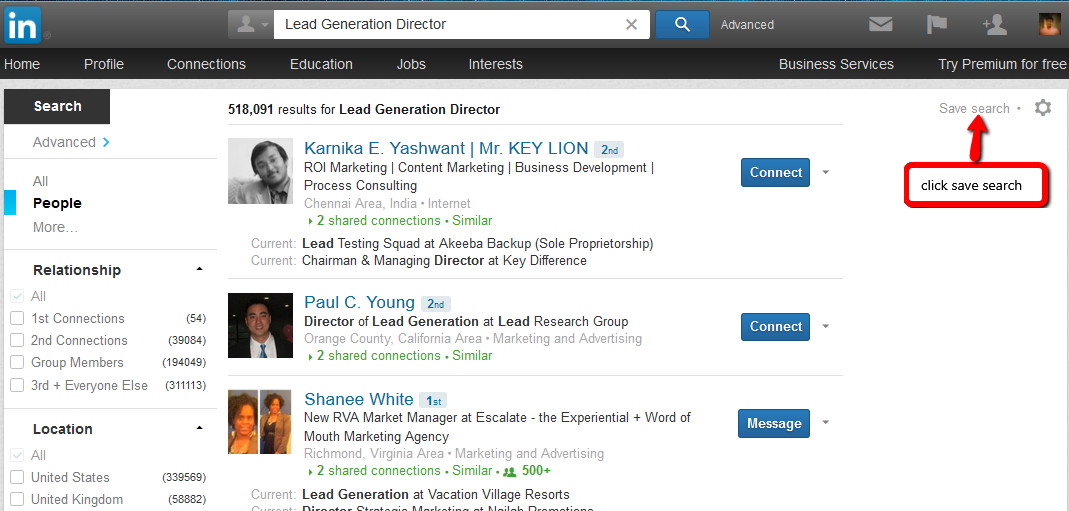 Step-3: Provide necessary input and save the search result
Give a name to your search. Set your preferences on how often you would like to receive email alerts pertaining to this search and save the search. Now the search is saved with the given name and LinkedIn® starts sending people's profiles matching that search criteria to your mailbox.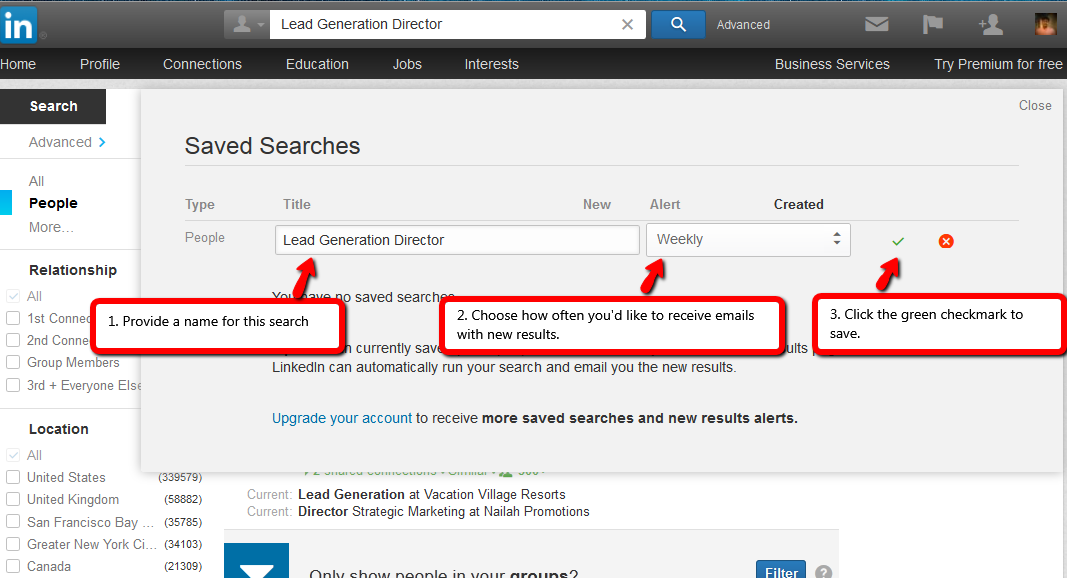 Start prospecting using eGrabber's Account-Researcher
As soon as you receive search peoples profiles in your mailbox, use Account-Researcher tool and capture their business email address and phone number. Start reaching your decision makers on their business email and phone and kick start your business with them.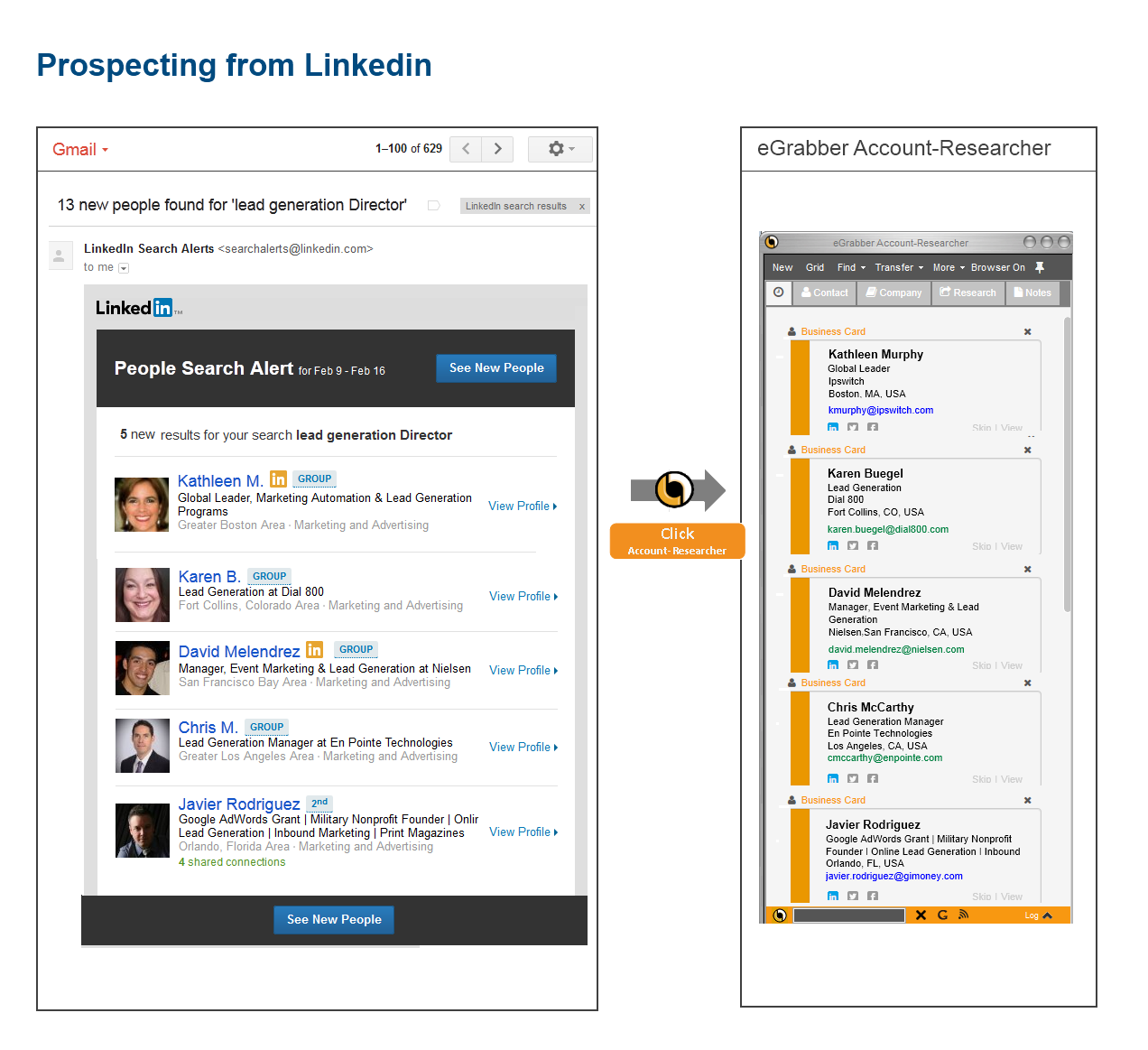 Follow this simple method and improve your sales conversions. Happy Selling!!
Download FREE Trial Today, Get 50 Contacts for FREE!
—