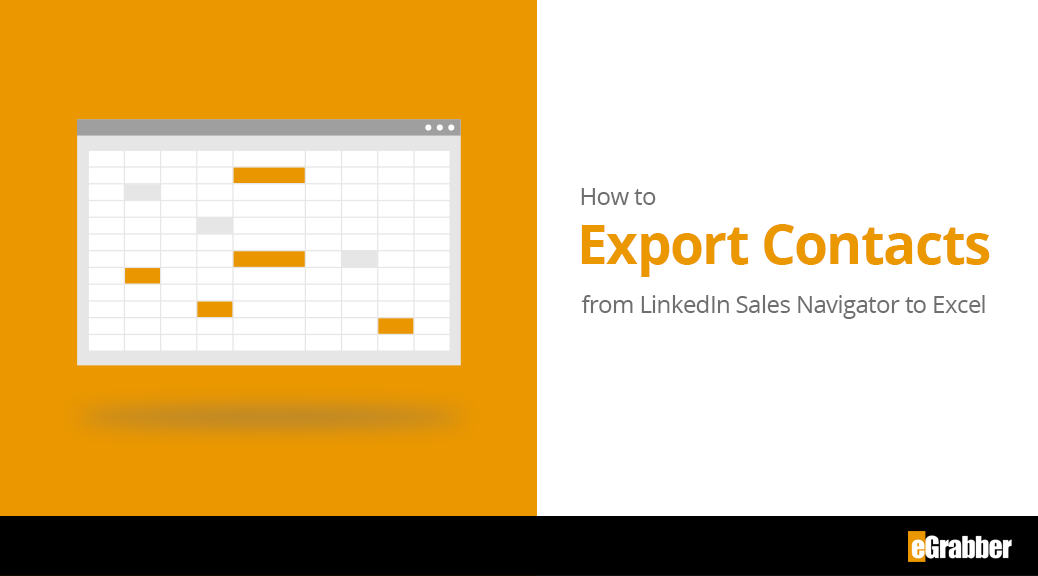 How to Export Contacts from LinkedIn Sales Navigator to Excel
How to Export Contacts from LinkedIn Sales Navigator to Excel
According to the Top 100 Online Business Directories, LinkedIn grabs the 7th place ranking 28th among the list. LinkedIn is one of the major sources of free & new sales/business leads. It provides you with your prospects' contact information including name, company, Fax, website URL, and other relevant details. It is the largest and most updated Business Directory of Owners, CEO's and other decision makers in any industry, geography and company. A LinkedIn search can be narrowed down by Zip code that lets you find business owners in industry verticals you sell to.
LinkedIn also helps you to find your targeted prospects and build lists such as contact lists; email lists; prospect lists; cold-calling lists; business mailing lists; targeted prospect lists based on title, company, groups, etc.
As all LinkedIn profiles are maintained by their owners, any changes in business or job roles are updated by the decision makers. Thus profiles on LinkedIn is always updated.
Do you want to export contacts from LinkedIn Sales Navigator to Excel? Try ListGrabber, it instantly copy-pastes the contact information of your LinkedIn prospects into an Excel spreadsheet. It eliminates manual data entry, typo errors & saves a lot of your valuable time. You could try our free LinkedIn Contact Capture Tool – Get your Free Trial Today!.
How can I export contacts from LinkedIn Search results?
You can use LinkedIn filters to make a search of your target prospects such as business owners or decision makers in your niche. If you use the premium version of LinkedIn, otherwise called Sales Navigator, you can further segment your list based on details like company size, revenue, company headcount and so on.
Once you have found your decision makers on LinkedIn, now you can start contacting them. Reaching out to your target customers on email and phone is still the most cost-effective marketing strategy there is. Nothing beats email and phone at cost-effectiveness.
To contact the decision makers, you need to first copy the names, companies, job titles and other information out into your CRM, or your PC or your Desktop or spreadsheet. This is where an automated sales lead capture tool such as ListGrabber can be handy. It helps you to export contacts from online directories & LinkedIn in no time.

ListGrabber instantly captures the contacts from the selected web page and enables you to transfer them to your database – Try it now.
Use ListGrabber to copy / export the LinkedIn Search results to excel
Export contacts from LinkedIn:
LinkedIn Driver for ListGrabber helps you to export contacts from any LinkedIn search page including people search, group member search, events attendees search and answers & discussion pages, and enables you to copy-paste the contact information of your LinkedIn prospects and export them to your Excel sheet/CSV in no time. It costs zero manual work with zero errors.
The Driver quickly and accurately exports email addresses, phone numbers and Twitter handles from the profiles and even exports the LinkedIn region and automatically fills in the City, State and Country. It also helps you to build targeted prospect lists, business mailing lists, email lists, cold-calling lists, and contact lists with a click of a button.
Fill in the form below to get your free LinkedIn Driver now. ListGrabber LinkedIn driver enables you to capture 30 pages of contacts per day in the LinkedIn Premium version and up to 500 pages of contacts per day in the LinkedIn Sales Navigator version. Download your free trial now.

—