4 New Ideas for Pursuing Sales Prospects
4 New Ideas for Pursuing Sales Prospects
Prospects Going Silent? – Re-Engage Them
Sales professionals spend over 40% of their productive time in following with their prospects. While the most popular media have been email and phone call, our experience shows that the hit rate is not as big as it should ideally be.
So are there any new ideas out there?
That's when we bumped into Tim Wackel. Tim is an expert sales coach with a history of leading sales teams, big and small, to great success.  Tim's approach to the follow-up problem was creative, practical and downright effective. Tim shared his tried-and-tested formula in a Webinar hosted by eGrabber. Here are a few takeaways:
1. Use Lumpy Mail
Tim suggests that you use innovative media to follow up with prospects. Apart from the traditional email and phone call, you should consider using media such as post cards, hand written letters, gifts, freebies etc that actually grab the prospects attention. And they are easy to do… online.
He delivered specific, first-hand examples of how these systems work on the webinar.
2. Plan a follow up calendar and execute well
What if your prospect is going to buy in that next phone call? …How do you know?
You don't. So, Tim recommends a follow up calendar to continuously engage with your prospects. He talks about the frequency, media and the message to be included. By following this calendar, sales professionals ensure that their prospects never go dormant.
Tim took a dive into how this calendar was made and how it was best put to use, in the webinar.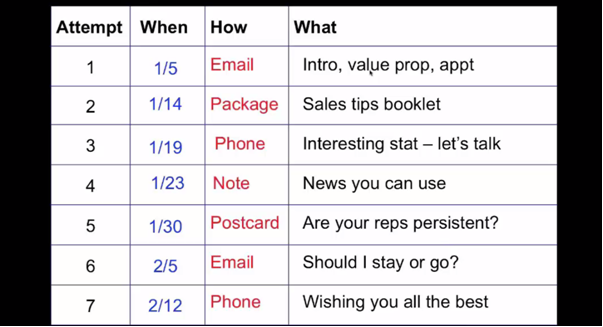 3. Breaking up…  in a professional way
Tim tells you why it's necessary to break up with your prospect… yes, you heard me, break up with your prospect.
And he also tells you how to do it… without slamming the door shut… just in case they come back to you!
The webinar also dwells on how you can rephrase their statements to reengage their prospects who normally do not respond to the traditional follow up content. Here's just one example.

When you have so little time, why prospect people who will never buy? – Fix the problem before it even begins. Start with a very highly targeted list.
Clinton Rozario from eGrabber showed how it is easy to build a list of your Glen Garry leads using social networks and online profiles. He showed an automated tool which builds your list, once you identify your list of profiles.
To Watch the Webinar Recording – Click Here