How to find email address of someone from LinkedIn (Step-By-Step)
How to find email address of someone from LinkedIn (Step-By-Step)
LinkedIn is one of the best places to find your targeted prospects. You can find prospects based on industry, title, location, experience, company size and so on. Now that you have found your targeted prospects on LinkedIn, the next step is to reach them right? Sometimes you might get their email address from LinkedIn profile but most of the times you are only left with just your prospect Name & Company name. This prevents you from reaching your top prospects immediately.
You can send connection requests to your prospects and wait for them to accept your invitation. However, this may not happen immediately. It might take days, weeks or even months. So, the question is how to find someone emails on LinkedIn.
[If you are looking to find emails and phone numbers of someone from LinkedIn, any corporate websites & discussion groups etc. in less than 30 seconds. You could try our free LinkedIn Email Finder Tool – eMail Prospector.]
Read on to learn how you can find email IDs from LinkedIn profile.
3 Steps to get anyone's email address
Find their company's website address
Figure out the email patterns used by their company
Test your patterns to get the right one
Step 1: Find their company's website address
Assuming you have your prospect's LinkedIn profile open, the first thing you have to do is get the company's website. You need the company website if you want to figure out the email domain. Most companies have the same company website and email domain.
In the person's LinkedIn profile, click the company name where they are working. If they are working in multiple companies, click the company that you want to email them in.
You will be navigated to the LinkedIn Company page. Click on the "About" section on the left. On the right-hand side, you will see the company's website. That's Clue#1. Keep a note of that.
Step 2: Figure out the email patterns used by their company
Every company uses a certain email pattern. If it is a large company, they will have a handful of email patterns that they use for everyone.
The most common email patterns in the world:
firstname.lastname, as in adam.sandler@egrabber.com
firstname, as in adam@egrabber.com
firstname.lastInitial, as in adam.s@egrabber.com

You've probably noticed 10 other types of email patterns. And you're right. We are now going to find out the email pattern for the company that we are interested in.
For this, I am going to use a search engine called DuckDuckGo. This is one of the best alternative search engines to Google right now. We are going to use DuckDuckGo because this Step-2 requires us to do a particular search that doesn't work so well on Google.
Go to DuckDuckGo and type in the last part of the company website address that you found in the previous step. Remove the "https://" and the "www." and replace that with a @ sign. Finally, put the whole thing in double-quotes.
For example, if the company website of the person you are searching for is "https://www.ey.com", then in DuckDuckGo you will search for "@ey.com" and make sure you type that in along with the double-quotes on both sides – the double-quotes are important.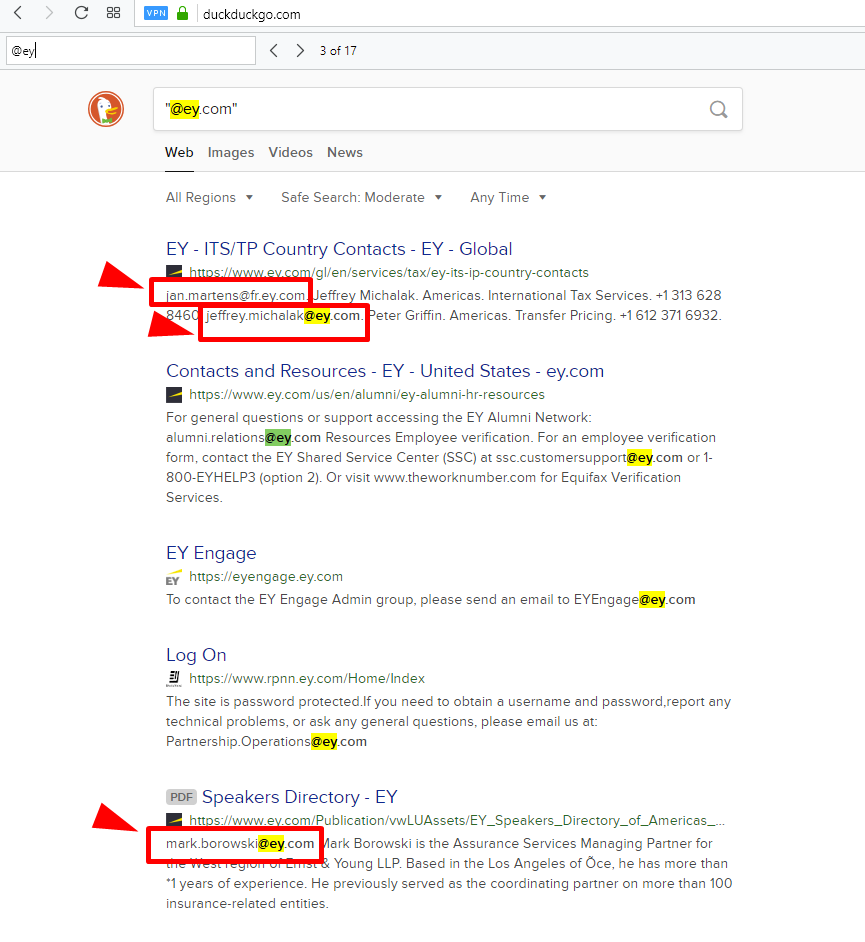 You can also click this sample DuckDuckGo search and change the text in the search box. Change it to the website address of the company you are interested in.
As you can see, the firstname.lastname email pattern is used by this company. We now have Clue#2. (Tip: To get the yellow highlights like I got it in the image above, press Ctrl+F on your browser and type in the email domain – this makes things much easier!)
This is just the first page of results. Go through a few pages of search results to find if there are more email patterns you can find. Here are some other email patterns used by ey.com …
firstname.lastInitial
firstnameLastname
firstInitial.Lastname
Lastname.firstInitial
Step 3: Test your patterns to get the right one
Now that you have a few email patterns in hand, you need to figure out which is the right one. We are going to use another online tool to find out which email pattern is actually working.
Head over to www.mailtester.com. Now, this website may look like it's from the last decade – because it is – it's one of the oldest tools known to the email finding experts – it's still good.

Type in one email pattern you constructed in your previous step and click the "Check address" button. You will get a report in a second, which looks like this (if you're lucky!)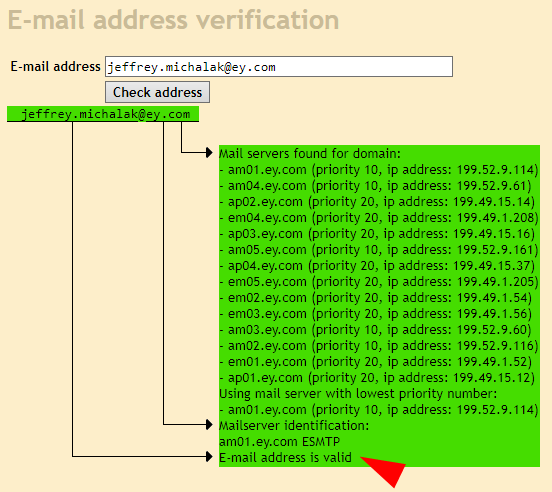 That last line is what you are looking for. It indicates that the email address will work when you send an email to it. YOU'RE DONE!
If you got a Red message, it means the email is invalid or does not exist. Then you need to try the next email pattern that you constructed in the previous step.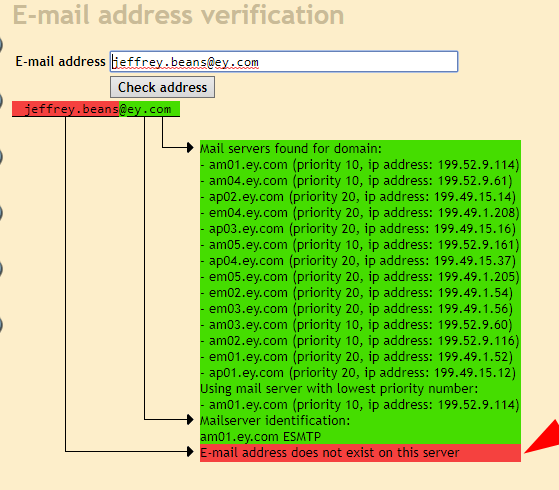 I didn't get the right email address. Now what?
If you've got the email address that you were looking for, Congratulations!
If you have not, there are many reasons why you may not have found the right email address in the first go. Just like learning something new, you'll have to keep trying a few other techniques until you get it right.
People use Nicknames in their email: Robert may use bob@company.com
People may use their middle names: Tory may use Tory.s.Smith@company.com
The person may have left that company and forgotten to update their LinkedIn profile (it happens!)
Companies may have country-specific email domains, like @fr.ey.com and @uk.ey.com
Most of the emails that you try to verify turn up as "Unknown" or "Server does not respond" (because free email verifier can only do so much)
many more…
All the above steps have to be done manually. You have to do all the three steps to get the email address for 1 prospect. Similarly, you have to repeat all the three processes for all the prospects to get their email address from LinkedIn. Imagine how much time it would take if you want to find email addresses for 100s of prospects. It is a very time-consuming and tedious task. That is why smart email finding tools such as eMail-Prospector can be handy for busy sales & marketing professionals.
eMail Finder Tool to find emails on LinkedIn
eGrabber eMail-Prospector helps you find emails of prospects found on LinkedIn. eMail-Prospector's built-in email finding technology helps you find email address of your prospects in less than 30 seconds. You can now focus on important tasks that need your attention.

All you need to do is:
Enter the contact name and company name.
Click Find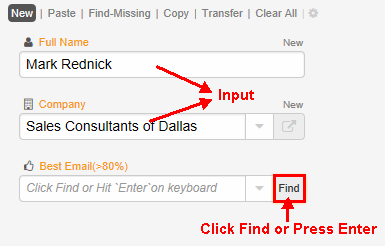 eMail-Prospector helps you find the business email address of the contact in no time.
What's more? The software also verifies the business email address.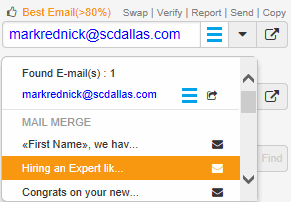 eMail-Prospector helps you find someone's email address who you don't know, get in touch with them through a well-written email and connect with them on LinkedIn as well without getting restricted.
Download FREE Trial Today, Get 50 Contacts FREE!
---