How to Find Trade Show Exhibitors & Attendees lists?
Trade shows are perfect for finding new prospects because they attract audiences based on Interests and Intent. You need to find trade shows that your prospects might be interested. For instance if you go to a Blockchain trade show, you are bound to find prospects of the following types:
Companies looking for solutions – these are the ones at the trade-show because they are interested in the main subject at the tradeshow
Companies selling the solutions – these companies need tools and services to build their solutions, AND attendees to sell them to
Exhibitors – these are companies which have put up stalls – they need to attract more visitors to their booth
Companies providing Exhibitor services – they need to find new exhibitors at other conferences
The Conference Venue – they need to find more conference organizers, so that they can host more conferences
The Conference Organizers – they need to get more attendees and more exhibitors
Speakers & Trainers – these experts are usually looking for their next speaking or training opportunity at the tradeshow
All these people, together, that's something you can't find in a Hoovers or a DiscoverOrg list.
In this day and age of search engines, you'd think they'd have a search engine for all the tradeshows out there.
Well, unfortunately not. Instead, there are dedicated websites and a few interesting ways to find trade shows by using advanced Google commands (sometimes referred to as X-Ray'ing Google).
If you have a recent Trade show Exhibitors List & want to find the attendee company's Decision makers, Job-Title, LinkedIn-ID, Business Email Address & Phone# in less than 30 seconds. You could try our free Decision Makers Finder Tool – Get your Free Trial Today!.
Find Trade Shows List
Trade shows & Conferences are one of the most effective ways for a company to generate leads. This post shows you different ways to find trade shows so you can generate a list of leads from them.
Find MapYourShow (Google X-Ray) Tradeshows
MapYourShow provides web hosting services for conference providers. When conference providers feed in the details of their trade-show into MapYourShow, the website takes care of sending their trade-show details to Google.
This means you can find trade shows by searching Google. You can easily search Google for any trade-show which is listed on MayYourShow. Just for reference, CES – the largest consumer electronics show at Las Vegas – is hosted on MapYourShow for the past several years.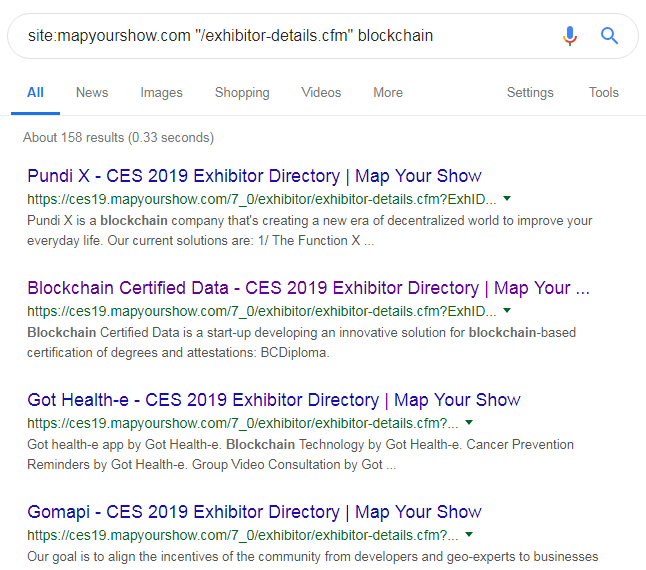 Try out this link https://tinyurl.com/y28blgda . You can find trade shows related to blockchain, and specifically, it points you to the Exhibitors Directory.
The Google search has some advanced Google keywords in there. So if you are looking for some other topic other than blockchain, remove the 'blockchain' keyword replace it with your own keyword.
Find ProductHunt Tradeshows
This website is very popular among early adopters of any technology. So if you are trying to break into a new market, or you want beta testers or early customers for your start-up then these events are your lead-generation go-to.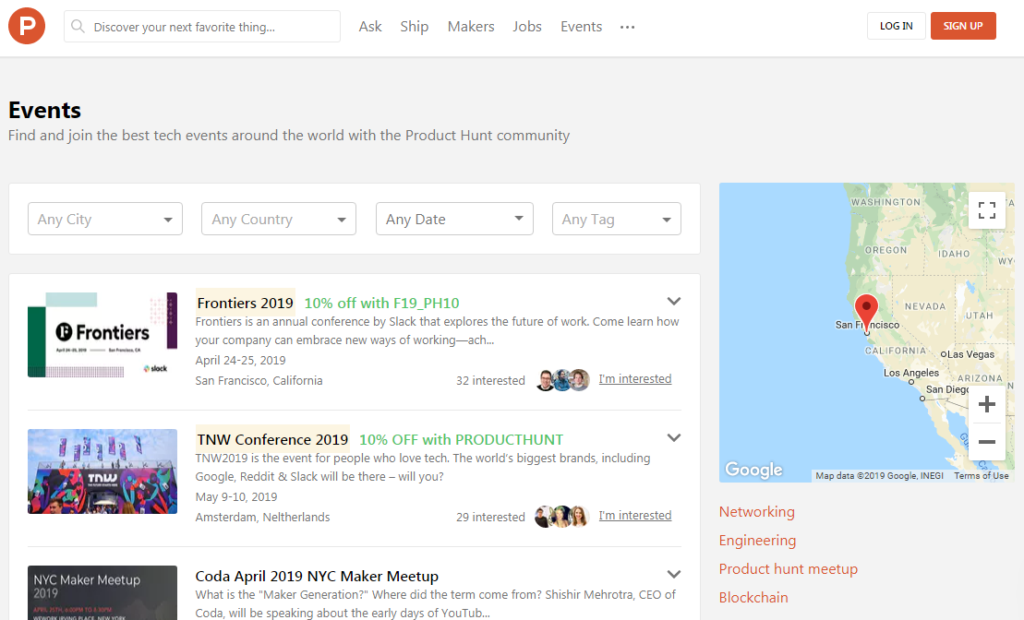 You can access the events page via this direct link
https://www.producthunt.com/events . Consider registering on ProductHunt before trying out those conferences for lead-generation – you get a few promotional offers.
Find EventBrite Conferences
EventBrite is another company which has been in the business of providing software to conference providers. Like MayYourShow, they also showcase those conferences in an easy to use Search engine. It helps you to find trade shows easily.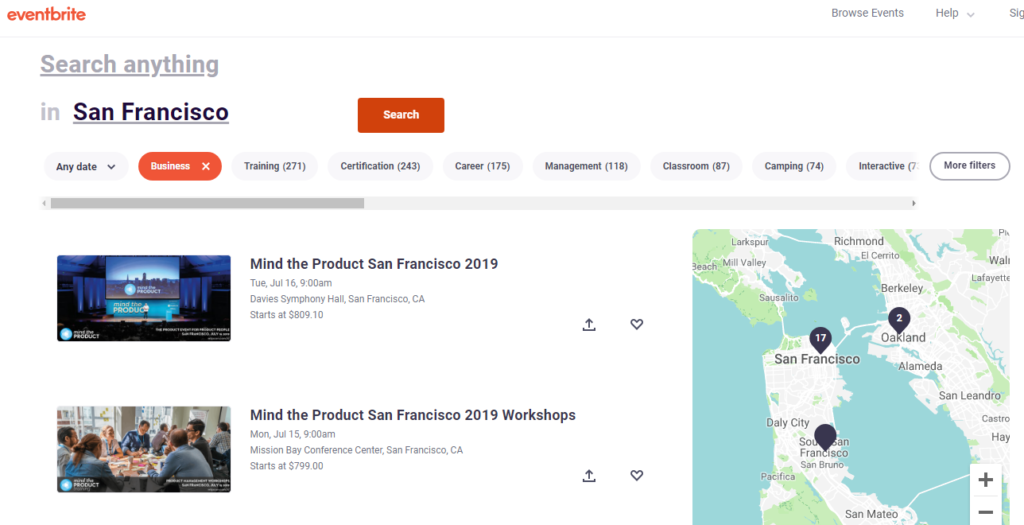 EventBrite events search: https://www.eventbrite.com/d/ca–san-francisco/business–events/?page=1 . This search gives you shows in SFO, but there are enough filters for you to try and drill down to the shows that you are interested in.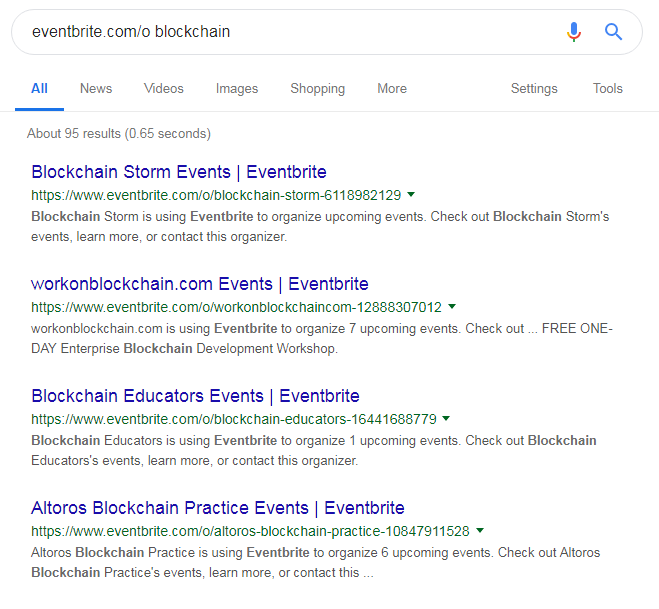 You can also X-Ray Google for events in EventBrite. https://tinyurl.com/y5uvy7at . You will always find a different result set than searching on EventBrite website.
That's because Google will give you the events that are socially popular. While EventBrite will give you the events that are more recent or highly promoted inside the EventBrite platform. Ideally, you should look at both sources
TradeshowPresenter.net
Are you looking for non-technology conferences? Perhaps some classic industries? TradeshowPresenter.net is a good source for non-tech conferences.
This website has trade shows which have their own dedicated website, so you will find trade shows here that are not on any of the previous platforms lists, like EventBrite and MapYourShow.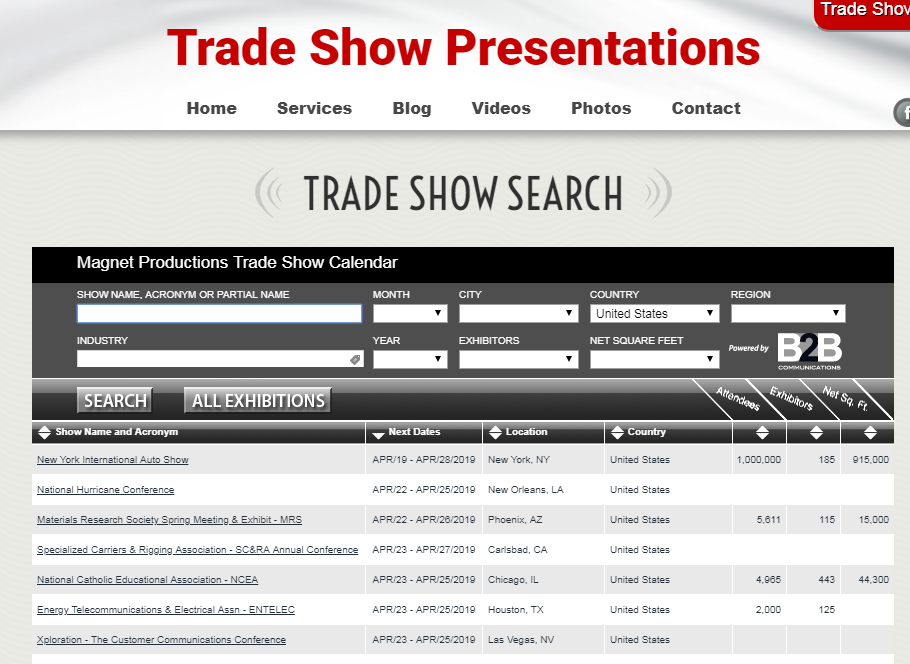 Plain Ol' Google Search
If you are starting off your search to find trade shows, then you can consider starting with a very broad and wide search. I've found using the keywords "Exhibitor Directory" is great at cutting out all the noise from Google Searches and giving you only conferences (and not blogs to conferences) https://tinyurl.com/y42us5jp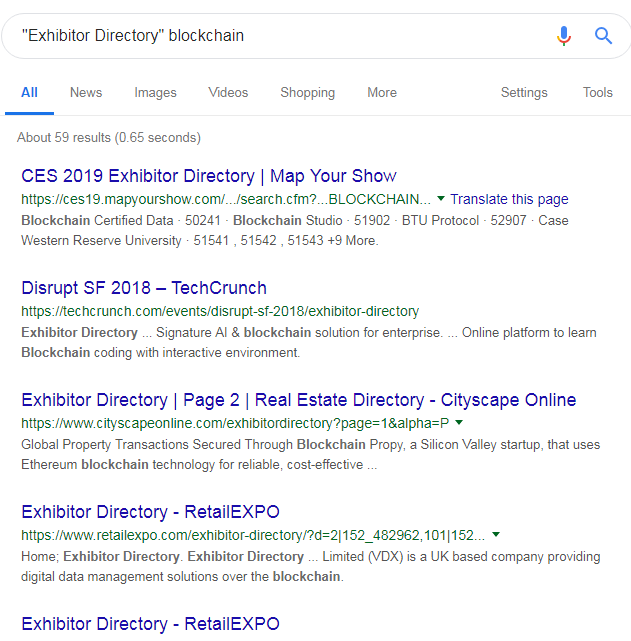 Twitter
Using the Twitter search is a great way to get to the conferences which are taking place right now, or those that will take place in a few days to come. The "recency" factor is what differentiates this search from all the other sources of conferences.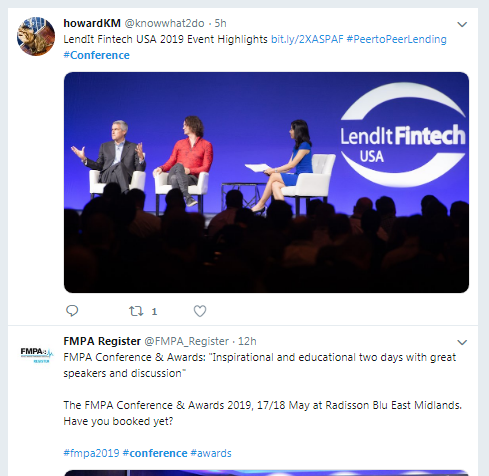 To search Twitter for the events you want, use the #conference and the #tradeshow HashTags.


Need the list of Decision Makers from these Exhibitors List? Or the Attendee-Companies?
Very often, those who attend these trade shows are not the ones with the budgets. If you are trying to sell your product or service, you can get a demo or an appointment with them, but you will find a champion for your product or a service. Not the decision maker who makes the buy decision.
You should give eGrabber Management-Finder a try. All you have to do is paste the list of companies which are attending this trade-show into the Management-Finder software.
You get the list of attendee companies for free or for very low cost from the conference organizers. Import that list of companies into the Management-Finder and then tell it the decision maker Job Titles you want.
The Management-Finder automatically researches for the decision makers at those companies, on the Internet, the company website and social media and gives you Name, Job Title, Verified Business Email address, phone and LinkedIn Id.
Download a Free Copy of Management Finder. Or ask us for an online demo.
Do you have any other websites from where you find trade shows leads? Put them in the comments below. I will review and add them.
Download FREE Trial Today, Find 50 Decision Makers Contacts for FREE!
Featured Photo by Jaime Lopes on Unsplash