Here's why I recommend Sales Navigator over Premium Account
Here's why I recommend Sales Navigator over Premium Account

I have deep expertise in enabling B2B sales, marketing & recruiting professionals reach ideal prospects. I love helping them be leaders in their company and their industry.

Sold to 100,000+ companies!
eGrabber, the company I founded 15+ years ago, makes Targeted Prospect List-Building Tools for use by Sales & Recruiting professionals.

Latest posts by Chandra Bodapati (see all)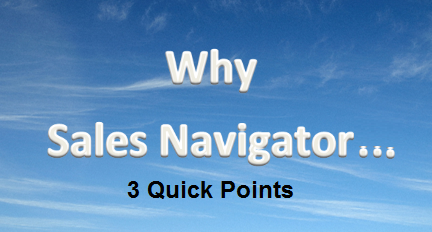 Are you a B2B lead generator, wondering whether to get Sales Navigator or Business Premium? Here is a quick summary.
Quick Summary (for lead generators)
Sales Navigator gives 10 more ways to target prospects – This can get you 3x to 5x more appointments! Sales Navigator enables you to zero in on decision makers 10x closer than you can with Premium – If premium gets you to 1,000 prospects to target, sales navigator advanced filters lets you home in further and identify 10 or 50 even higher probable prospects. You can then spend 50% of your time custom researching these 50, and get 5x more engagement. The remaining 950, you handle the old fashioned way, and get the old fashioned responses.. this targeting feature alone gets you several times more ROI than the $17 difference….
Sales Navigator generates talking point alerts for your Hot or stalled Leads – This gives you a way smarter way to engage prospects & get more mind share – that can eventually mean higher conversion rates. Sales Navigator enables you to save certain prospects as hot leads. It shows you what those prospects have been up to on a daily basis – and shows what they liked and commented or if they were in the news. This is great if you are looking for ways to engage with prospects.
Price difference is only $17/month – as of March 09, 2017 – Sales Navigator is $64.99/mo vs Premium Business is $47.99/mo
Here is a link that has plans & pricing – Here is a link that compares all LinkedIn plans for sales people (You may have to log out of LinkedIn to see the comparisons – for some reason LinkedIn hides them)
If you want brainstorm on building a B2B prospect persona or have one, and want some help in searching for them or building them into prospect lists – feel free to email me chandra@egrabber.com I can try to help
PS – Please feel free to SHARE this article with your connections