Linked University's Ben Kniffen: Generate B2B leads from a targeted company list
Linked University's Ben Kniffen: Generate B2B leads from a targeted company list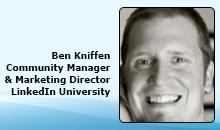 One successful outbound lead generation strategy starts with a targeted list of companies. Sourcing the company list is the easy part, but it gets up-hill from there. Adding decision maker names, email addresses and phone numbers can take weeks.
But what if you could automate this? What if you could complete that list in hours, rather than weeks? Would that jump-start your outbound campaign?
Ben Kniffen's recorded webinar, as he demonstrates how he solves this lead generation challenge.
Ben is the Community Manager and Marketing Director at Linked University.com. Linked University has the definitive training program for building business on LinkedIn.
VIEW THE RECORDING of the webinar. Click here
What you will see in this webinar:

How to quickly attach names and contact info to company lists
How to build prospect lists from online groups
How to manage lists easily with eGrabber's tools
During the webinar, Ben has demonstrated how eGrabber's LeadGrabber Pro software completes his lead generation tasks for him,

Passionate product marketing professional - managing B2B content generation, webinar production & strategic relationships with B2B and recruiting industry experts, partners / resellers, also developing original marketing content for company website, newsletters, articles, Ads, blogs.

Latest posts by Ambi Moorthy (see all)