How to Build B2B Prospect Lists to increase sales (Quickly)
How to Build B2B Prospect Lists to increase sales (Quickly)
A targeted B2B prospect list is one of the most powerful and essential tools that you should have to jump start your B2B email marketing campaigns. It is a list of prospective clients with name, business email address and phone numbers who need your products or services.
However, B2B businesses often find it difficult to build business prospect lists. The reason is, B2B sales & marketing executives are always busy that they are unable to spend the time it deserves to build a complete and accurate prospect list.
However, Smart Sales & Marketing Professionals use B2B Prospecting Tools & become Tremendously Successful.
Try this Ultimate B2B Prospecting Tool to Find your Ideal Prospects
[Try for Free]
Prospect List Building for your Business
Businesses use different methods for prospect list building. When you build a B2B prospect list on your own, you have to begin with manually searching and researching on the Internet to get a targeted list of companies. After that, you need to find decision makers in those companies and their business contact information. Well, this takes a lot of time and effort.
It gets even worse if you were to build a customized list of prospective clients – say, a list of software companies located in North America with more than 1000 employees and revenue ranging from $100-200M. You will end up spending weeks and may have to employ more resources to build the list faster.
Another way to go about this is to buy lists from vendors. But they are quite expensive. List vendors sell the same list to everyone where you lose your competitive advantage and chances are very high that the data is outdated. This is where a B2B prospecting tool such as LeadGrabber Pro can be handy.
Software to Build Business Prospect Lists
LeadGrabber Pro helps you to easily & effortlessly build targeted business prospect lists and increase sales. It helps you to find prospective clients from real-time sources and instantly extract them to an Excel sheet, Salesforce.com, PCRecruiter, ACT!, etc. The B2B Prospecting Tool enables you to build your own business prospect lists based on any industry, location, job title, company size, function, etc. in just a few hours.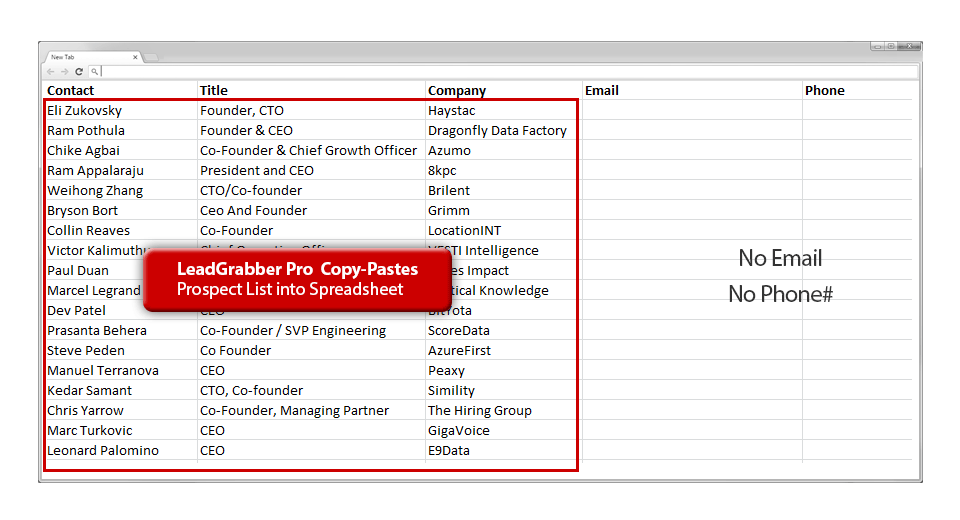 What's more? The prospecting tool also helps you to append verified business email addresses and phone numbers of your prospects. You can quickly reach your potential prospects before your competitor does.
Unlike building prospect lists manually & buying lists, LeadGrabber Pro helps you to save a lot of your time & money and reach the right prospects. It helps you to improve your sales conversions and increase sales revenue.
Download your FREE Trial Today, Get 50 Contacts Free!