How B2B Lead Generation Companies are Leveraging Tools to Increase Revenues
How B2B Lead Generation Companies are Leveraging Tools to Increase Revenues
Why would a B2B LeadGen company buy a LeadGen tool?
That's what we asked Launch Leads when they bought LeadGrabber Pro. Read on to find out what they said…
Launch Leads provides USA-based outsourced Lead Generation & Appointment Setting Services. They cold-call a targeted list of decision makers and schedule appointments with qualified companies on behalf of their clients. Clients give them a B2B industry list of companies to target.
Previously, their LeadGen team would map out the decision makers manually and then cold call.
Launch Leads tried the LeadGrabber tool to automate this LeadGen process. Now the LeadGrabber tool maps out the decision makers, while the team simultaneously focuses on calling.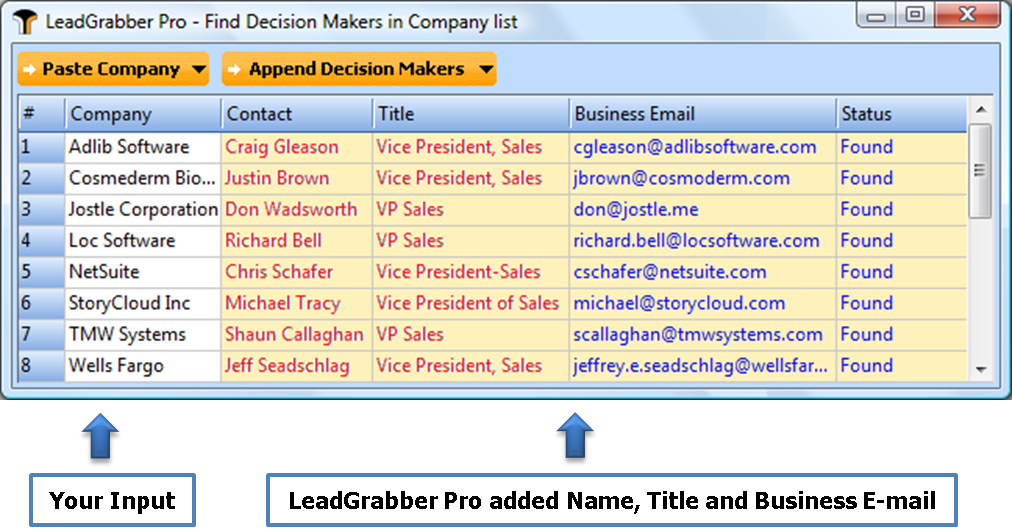 This gives Launch Leads several advantages, the most important ones are:
Serving multiple clients, in parallel: While the LeadGrabber is mapping out decision makers for one client, the team can focus on calling for another client
Shorter turn-around time: The LeadGrabber can run overnight, so the team can start calling early morning, the very next day.

Launch Leads were able to
Serve 30% more clients than before.
Increase Sales Revenue by 25%
Save hundreds of man-hours per week
Are you also looking to jump-start revenue this year?

Clinton Rozario is a B2B List Building technology expert and architected LeadGrabber Pro, the B2B List Building Tool from eGrabber. Clinton joined eGrabber in 2003. He held key roles in R&D, developing strategic and proprietary technologies. He is now responsible for development of eGrabber's List Building and List Completion Tool Suite. He is also available on
Google+
and
LinkedIn
.

Latest posts by Clinton Rozario (see all)