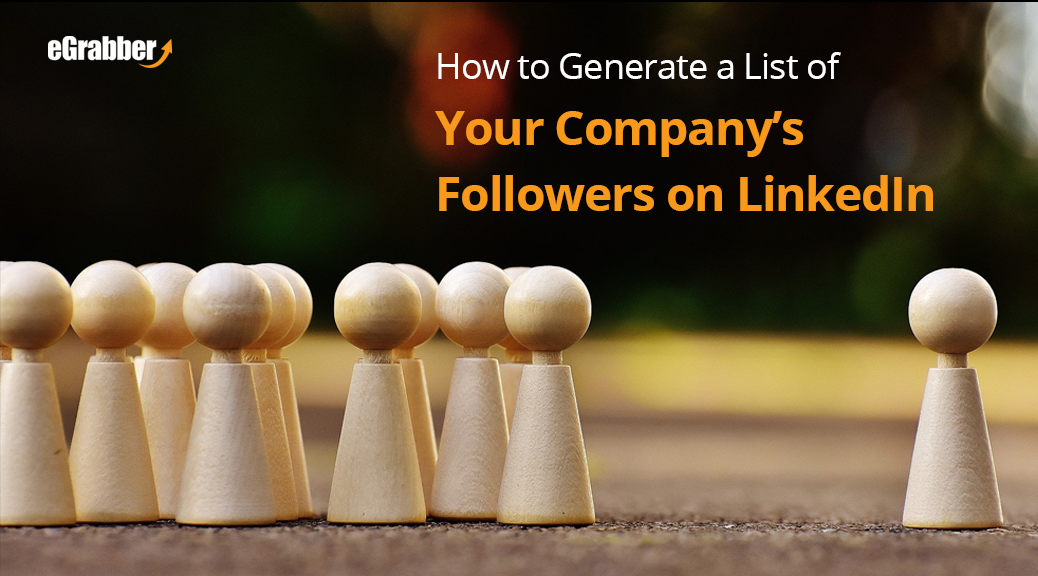 How to Generate a List of Your Company's Followers on LinkedIn
Why LinkedIn members choose to follow your company page?
On LinkedIn, members choose to follow companies they are interested in, to keep up-to-date with the latest company news, products, services, and job opportunities.
The Stats:
LinkedIn has around 722 million members, whereas Instagram currently has 1 billion users, and Facebook has 2.74 billion. LinkedIn is not the largest of social media networks but has a specific business focus and audience worth noticing.
Companies with an active LinkedIn page see 5x more page views, showing the value of keeping your LinkedIn page up-to-date and active.
It is also said that more than half of U.S. marketers are using LinkedIn in 2021. LinkedIn has passed the 50% milestone for the first this year according to eMarketer estimates.
Here's Why You Must Reach out to Your Company's LinkedIn Followers
Following pages on LinkedIn lets, you see another LinkedIn member's posts and articles that they share without being connected with them. This way, the sharing is only moving in one direction, as opposed to the mutual following that a connection brings. Of course, someone could view your page and see some of this information, but they won't get receive any alerts or exclusive updates about your product/services.
If you see your followers be an excellent prospect for you, the fact that they have decided to follow you is a good sign and could be a great starting point for you to contact them
Here are some of the other reasons you should reach out to your company's LinkedIn followers
Connect with your community in real-time
Drive specific actions using a personalized call-to-action in your email
Discover the likes and interests of your target audience
Engage with your current connections via email to increase engagement, and exposure even more.
Notify employees of your most important page posts to boost organic reach
How to Locate Your company followers in Sales Navigator?
Let's see how to find members who have chosen to follow your current company, in Sales Navigator. This helps you identify members who may be open to receiving messages about your product/services, as they have already expressed interest in your company. When you reach out, remember that your goal is to represent your company's brand and guide the members in the buying process.
All Filters
On the Sales Navigator home page, go to the All filters.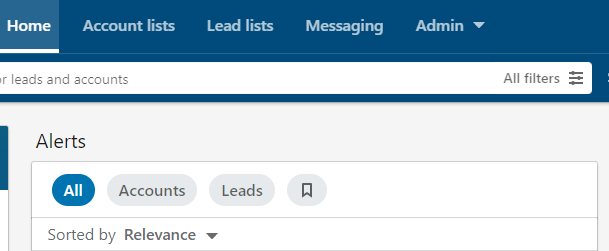 You will see a set of filters, in which you will have to select the profile language filter and choose English.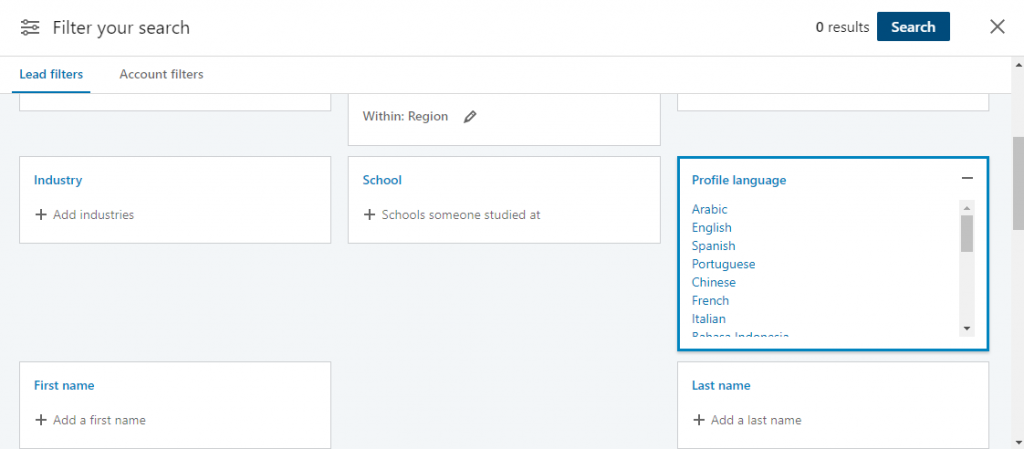 Spotlights
You will arrive at huge search results. In the search results you will see a spotlights filter near the bottom of the keywords box. Choose Leads that follow your company on LinkedIn option.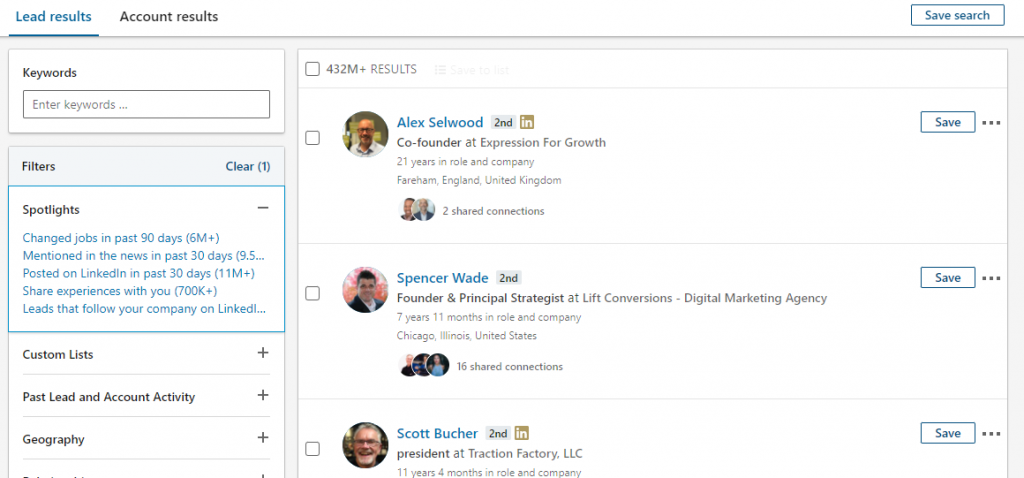 Search Results
You will finally get to see the members who follow your current company on LinkedIn.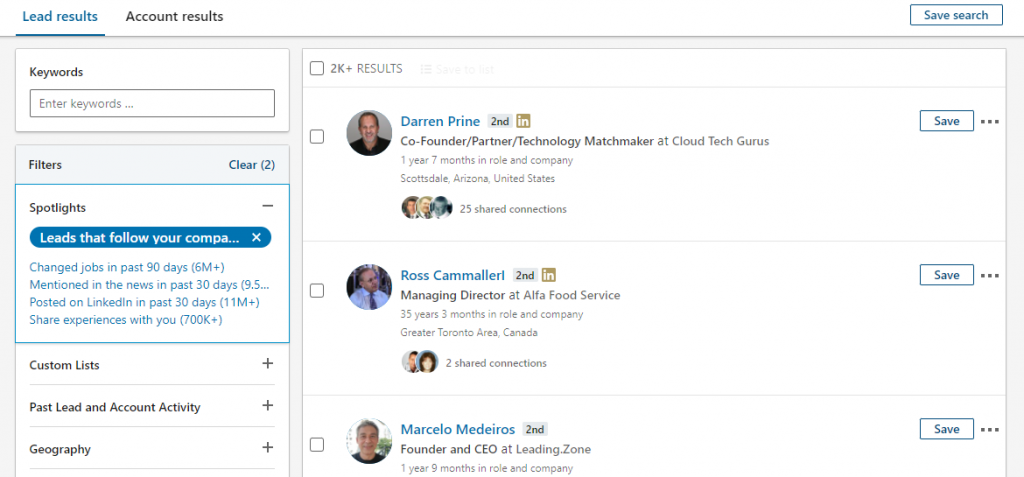 Now that you got a list of members who follow your company on LinkedIn, there are multiple ways such as emails, calls, social media messages, and LinkedIn InMails to reach out through. But always pick an effective method that captures the attention of your target prospects.
Always have an outbound sequence strategy in place for conversions and scheduling meetings…like email campaigns. Emails still rule the B2B communication. It is also the easiest and most effective way to communicate with professionals.
Here's are some of the benefits of considering the email channel
You can create a tailored sequence of emails and don't have to just stop with a single email
Create multi-touchpoints to get responses
High email sending limits
High open rates
Zero investment
Email tracking, auto scheduling and drip campaigns are possible
Marketing automation
Data driven actions that enhance your results
Above all this LinkedIn Inmails reaches your prospect's personal email address. There are chances that your prospect might not open your email at all or ignore thinking it's not of much importance, just because they receive it in their personal inbox.
Always reach out to your prospects at their business email address to get their attention and to make them realize the importance of your email message.
LeadGrabber Pro is a powerful B2B lead generation software that helps you to build a list of LinkedIn company followers with contact information in no time. The B2B lead generation software also enables you to build B2B prospect lists from other social and professional networking sites.
You can find verified business email addresses and phone numbers of the members.
The B2B lead generation software performs deep-web searches and finds verified business email addresses and phone numbers of your company followers.
Once the B2B company list is ready, you can transfer the list to Salesforce.com, PCRecruiter, Act!, and your Excel spreadsheet in a single click.
LeadGrabber helps you to easily and effortlessly build a B2B prospect list with contact information. It helps you to save a lot of your time and focus more on reaching your prospects.
Download Free Trial Today, Get 50 Contacts FREE!