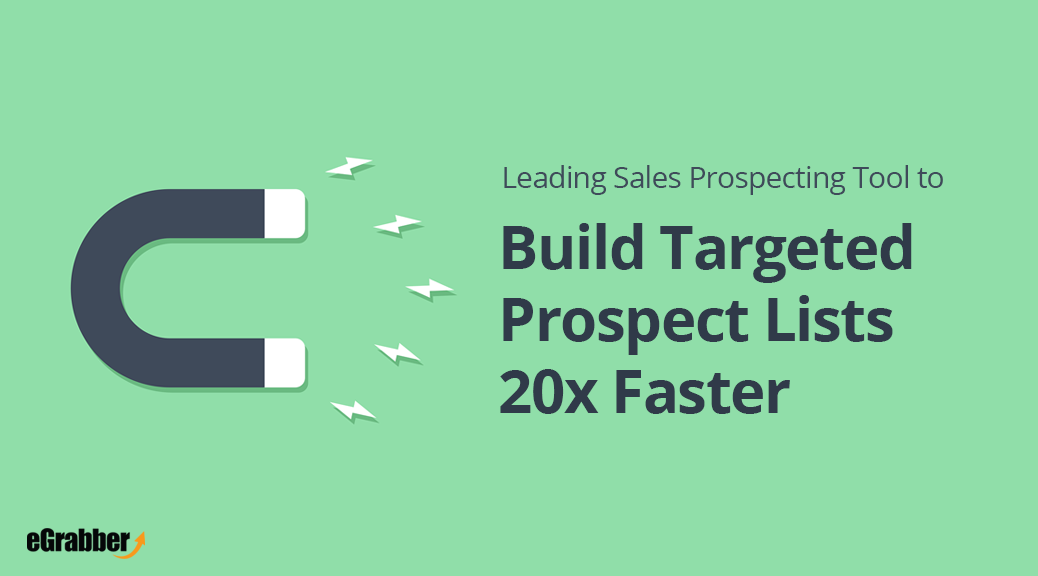 Leading Sales Prospecting Tool to Build Targeted Prospect Lists 20x Faster
Leading Sales Prospecting Tool to Build Targeted Prospect Lists 20x Faster
A well-targeted prospect list is highly effective when used at the right time. Emails and cold calls help you get your message across quickly with a personal touch, that many communication tools don't. Most of the successful B2B sales and marketing teams are built on cold emails and calls, which employ the sales prospecting technique until today.
Building a cold calling list with high-quality prospects that matches your ideal customer profile is a difficult job. The problem with building your own prospect lists is that It requires a lot of time, energy, resources, and workforce which most of the small businesses are not provided with. When small businesses do not have the luxury to set up a dedicated lead generation team, they buy lists from list vendors.
#1 Sales Prospecting Tool to Build Prospect Lists 20x Faster
Buying lists might be a lot cheaper and a quick fix but you might end up wasting your time and most of your money buying lists that don't actually work.
The downside of buying B2B prospecting lists
Low-quality leads
Outdated or inaccurate information
Increased spam score
Leads not unique to your competitors
There are a lot of Benefits when building a B2B prospect list on your own when compared to buying lists. Then why buy from list vendors when your Sales development representatives themselves can build B2B prospect lists seamlessly.
Sales Prospecting Tool that helps SDR's build targeted prospecting lists
LeadGrabber Pro is a unique sales prospecting tool that builds prospect lists from Online Directories, Professional & Social networking sites such as LinkedIn. It then appends the missing business email addresses and company phone# and automatically verifies email addresses to come up with a spam-safe index.
Here's what LeadGrabber Pro does something more unique than competitors:
Helps you book More Qualified Sales Demos & Appointments
Setting sales appointments & demos is no more a hassle with LeadGrabber Pro. The sales prospecting tool helps SDRs to find hard-to-find qualified sales prospects (the right prospects with the authority to buy), reach them with a compelling message, and set sales appointments with ease. It enables SDRs to book 3x more qualified sales demos & appointments.
Gives your Prospect's Coworkers Emails
In addition to verified business email addresses of your prospects, LeadGrabber Pro also helps SDRs to get their prospects' coworker emails. Using coworker emails, sales development reps can reach multiple contacts in the same company, increase engagement rates and increase the chances of sales conversions by 5x. LeadGrabber Pro provides hundreds of coworker emails & company emails for free. Here's how to leverage coworkers' emails and increase sales opportunities.
Finds New Prospects Invisible to List Buyers
Live social media search filters enable you to find recently promoted & hired decision-makers, not available through list builders whose list are 6+ months old. LeadGrabber Pro is the best sales prospecting software that helps sales development reps quickly build targeted prospect lists and acquire new clients.
Export to CRM
LeadGrabber directly transfers prospect lists to Salesforce.com, PCRecruiter (PCR), ACT!, Excel and Outlook. Also supports CSV format for automatic export of contacts to Bullhorn, Lotus Organizer, Jigsaw, etc…
List Building Process Automation
If you are looking to automate the whole process of lead generation and zero manual work or workforce, then check out Build Scheduler which is an advanced plugin that gets lists delivered via email every day. It is for users who know in advance what lists they want to build and want to automate the entire process. It eliminates the need for manual intervention as new lists will be delivered to your inbox on a daily basis.

The list-building process with the help of Build Scheduler would be the same as it would be if you are outsourcing to lead researchers.
All you need to do is bookmark searches and specify lists you want to import to.
Build Scheduler will automatically process lead records every day and email the list to your inbox. More specifically, Build Scheduler will grab/import + dedupe + append email/phone + verify email & send the verified list to the email address you specified.
You can download your lead list every day from your email and use it to generate meetings and sales.
You will be able to supply your team with a consistent flow of sales leads with minimal effort.
Try LeadGrabber Pro with Build scheduler to generate customized leads every day.
Fill in the Form & Download LeadGrabber Pro Now!